This is a sponsored post. All thoughts and opinions are always my own.
One of the most memorable trips I have done in the past few months was the inaugural cruise on the Norwegian Bliss. My husband and I had the chance to be immersed in all that is the Norwegian Bliss and see first hand why this new ship is a great option for an all-inclusive vacation.
If you haven't heard already, the Norwegian Bliss is the newest ship in the NCL family. It was specifically designed to cruise Alaska and has so many special features on it.
The Bliss is a huge ship with so much to offer. Here is a list of my favourite things about the Norwegian Bliss. It's quite obvious that there is something for everyone on this cruise ship.
Adults Only
1 > Entertainment at sea.
The Bliss is currently featuring Jersey Boys, Havana! and Happy Hour Prohibition: The Musical. Jersey Boys and Havana! are included in your cruise and should not be missed. Happy Hour Prohibition: The Musical is a specialty experience.
2 > Tasty drinks.
The Bliss has many beverages exclusive to NCL. Some of my favourite drinks included the Raspberry Guava Mojito (at the Sugarcane Mojito Bar), the Blackberry Bourbon Smash (at Maltings Whiskey Bar) and the Gunners (at the A-List bar). I highly recommend getting a drink package because once you have one taste of these drinks you'll want to enjoy them on a daily basis.
3 > Casino at Sea.
The Bliss has a large casino that features hundreds of slot machines and table games. This casino has a separate smoking and non-smoking sections to cater to all guests.
4 > Spa at Sea.
The Mandara Spa on board of the Bliss offers ultimate relaxation. It has 24 treatment rooms, a full-service salon and barber shop, a thermal suite and a Snow Room. Relax on one of the 17 heated loungers in the thermal suite and enjoy an unobstructed view of the ocean. Passes to enjoy the thermal suite are available for purchase during each sailing.
5 > Fitness center.
The fitness center on the ship has incredible ocean views and top-notch equipment. You can also sign up for TRX, Fight Club, Ryde Cycle and enjoy an aerobics room.
6 > The Beatles, comedy acts and magic shows.
There are so many ways to be entertained on this ship. Enjoy nightly live performances from a Beatles cover band at The Cavern Club, or listen to popular stand-up comedians at the Social Comedy and Night Club.
7 > Silent Disco.
This was one of my favourite experiences on board the Bliss. Arrive early at the Social Comedy and Night Club to reserve your headphones. Once the party starts, select the music you want to hear and dance the night away.
Family Fun
1 > Swimming pool and water slides.
The pool deck is perfect for everyone in the family. Enjoy a fun ride on the Aqua Racer, a tube slide that allows guests to ride on their own or share a double tube with a family member or friends. Brave guests can ride the high-speed Ocean Loops, a double loop water slide that extends over the side of the ship. The pool deck also has two spacious swimming pools and six infinity hot tubs to enjoy.
2 > Laser Tag.
If you're looking for a little bit of excitement challenge your family and friends to a game of laser tag! This space station themed laser tag activity is an open-air experience on the top deck of the ship. Laser Tag is open day and night.
3 > The NCL Race Track.
One of my favourite things on this ship is the race track. Race your family and friends on the largest two-level race track at sea. Read more about my race track experience here.
4 > Mini Golf.
The Bliss has a fun mini golf course set up on the top deck. Golf clubs and balls are available on the spot and there aren't usually any lineups.
Kids Only
1 > Kids aqua park.
All kids love the aquapark on the pool deck. This is a great spot to cool off. The aqua park has a small water slide, splash pads, water cannons and tipping buckets.
2 > Splash Academy.
The kids club on board of the NCL Bliss is complimentary and extremely fun. Splash Academy welcomes kids ages 3 to 12. Supervised activities include a circus spectacular, jungle-themed nights and more.
3 > Video game arcade.
There are tons of fun video games to play on the arcade on board. To play games simply scan your room key card. Here you'll find air hockey, fast-paced hoops, claw cranes and much more.
4 > Guppies playroom.
Babies six months to 3 years old love this large playroom where Early Years Coordinators host many activities for parents and babies to enjoy.
5> Entourage Teen Club.
This is the perfect place for teens to hang out and make new friends. Entourage is designed for ages 13-17.
Food + More
1 > Gourmet dining.
There are 20 restaurants on board the Bliss. 5 are complimentary and 15 are specialty dining restaurants. Children menus are available in all restaurants. The food at all the restaurants we tried was delicious and the service was incredible.
2 > The Observation Deck.
This is where you notice that this ship was designed for Alaska. The Observation Deck on board the Bliss has two levels of windows and a large amount of cushioned loungers, sofas, and even a bar. This is a great place to relax at any time of day.
3 > The waterfront.
This gorgeous deck has comfortable seating and amazing views
I have always been a fan of Norwegian Cruise Line but this ship surpassed my expectations. It is well designed and has so much to offer for every guest on board.
I loved the rooms, the food, and the entertainment.
If you're looking to book a luxury cruise look no further then the Norwegian Bliss.
The Bliss is currently cruising to Alaska and will be adding many more routes this fall and winter. It will eventually be cruising the Caribbean.
I honestly feel that the Norwegian Bliss is a great ship for families and large groups. I am already planning to take my kids on board next summer. I know they would absolutely cherish this experience.
.
.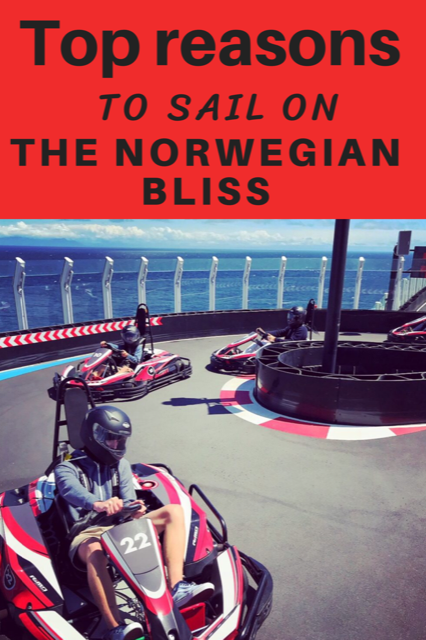 To learn more about the Norwegian Bliss check out:
Read more about my Norwegian Cruise Line experiences here:
I'd love to know, have you cruised with Norwegian? What did you like most about your experience?