My kids are growing up fast and it's time for me to start purging our toy room and clear out games my kids used to play when they were very young.
I'm so happy that we're adding new games to our collection (games that my husband and I actually like playing with them!).
Disclosure: This is a sponsored post. It contains affiliate links for your shopping convenience.
Mattel recently sent us two games to enjoy with our family. We received DOS (think UNO with a twist) and Apples to Apples. 
About Apples to Apples
My kids had played this game at a friend's house and loved it.
Apples to Apples is a game for 4 players (or more). The game has Red Apple Cards that are the name of a person, place, thing or event, and Green Apple Cards that have two words that describe a person, place, thing, or event.
Each player has to select a Red Apple Card from their hand that describes the Green Apple Card the best. The judge decides which of the red cards is the best of all players.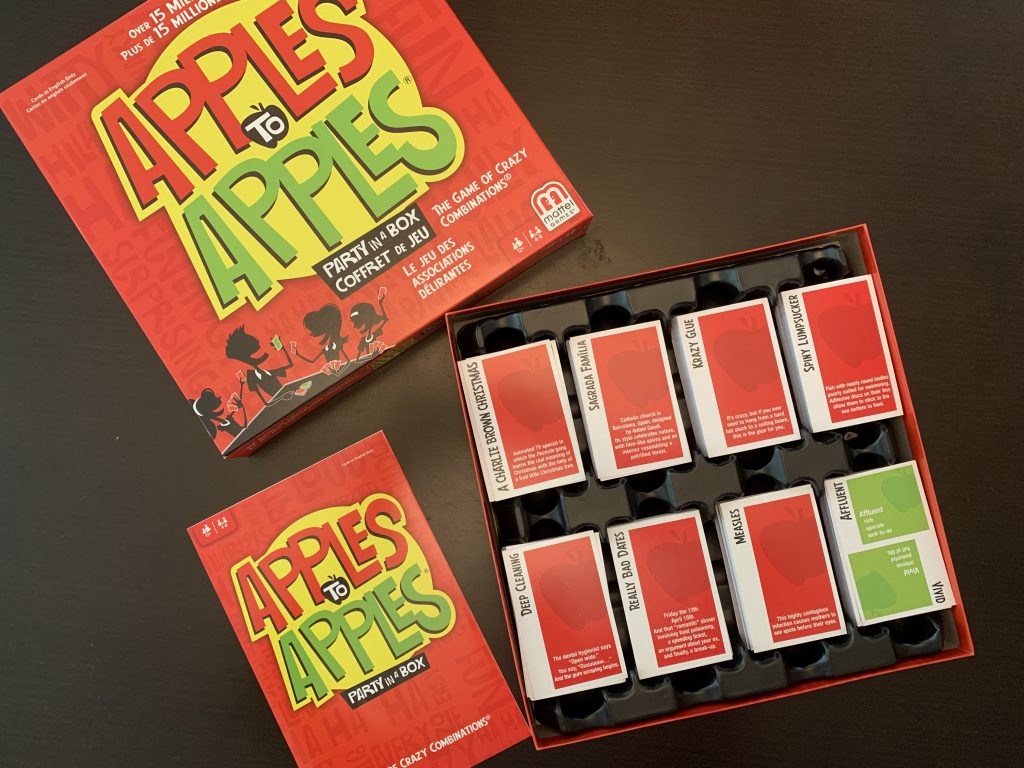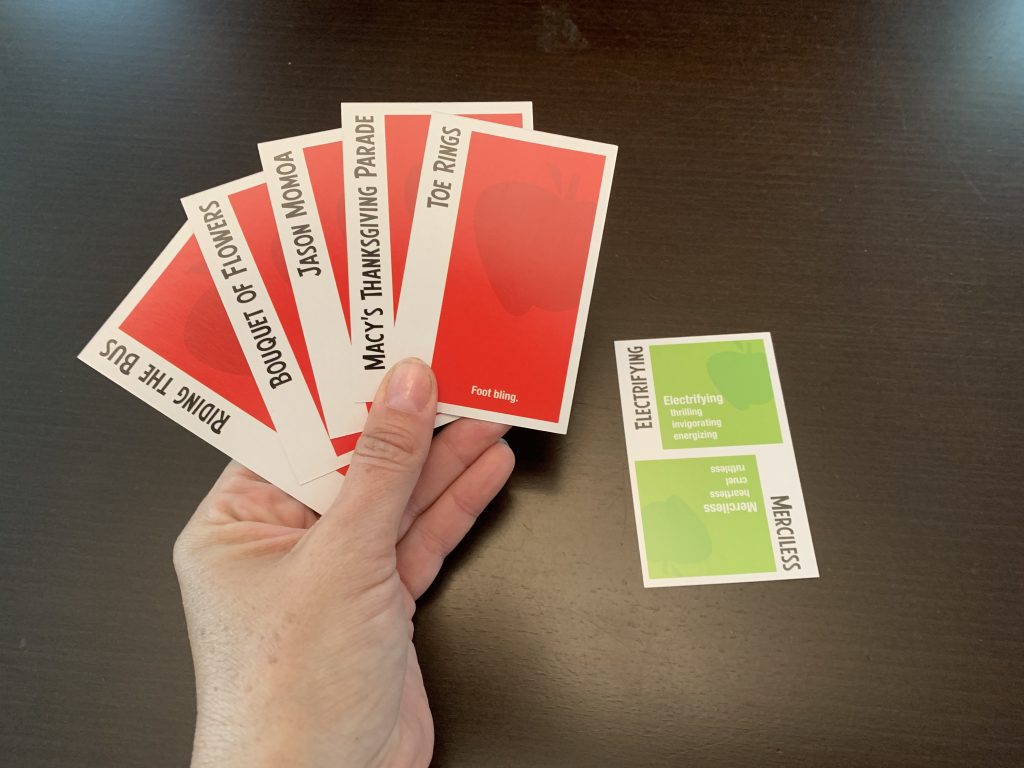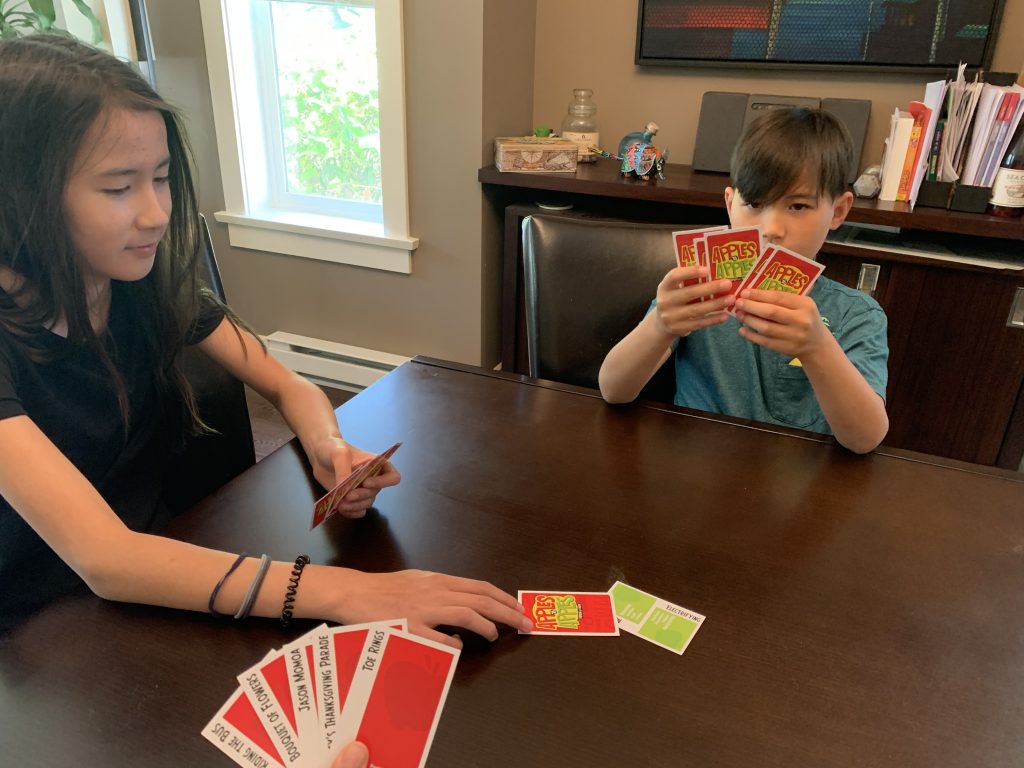 Playing Apples to Apples
> Each player starts with 5 Red Apple cards.
> Players choose a judge for the first round. After one round, the judge moves to the player on the left.
> The judge turns over a Green Apple card.
> Players pass their best Red Apple card to the judge face down. 
> Players can try to convince the judge that their card is the best description.
> The judge awards the Green Apple card to the player with the winning card.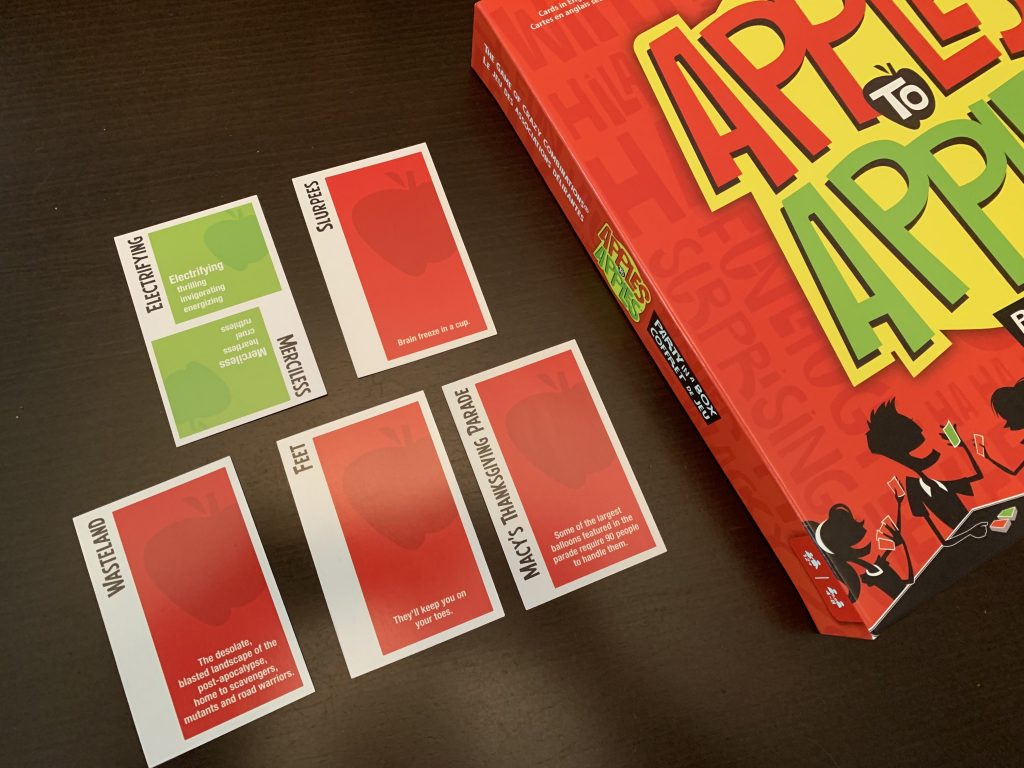 In my opinion, the best part of the game is when players are trying to convince the judge that their card is the best choice. The arguments when playing can get so incredibly funny. We all have fun playing this game.
Want to add Apples to Apples to your game collection? Get it here from Indigo.ca.
About DOS
We have BIG fans of UNO. We brought our UNO game along with us to Europe last year and played it lots when traveling.
I was excited to try out DOS with my kids.
DOS is a very different concept to UNO. The goal of the game is to be the first to get rid of all your cards and earn 200 points. You can do so in all kinds of ways including getting rid of identical numbers, colours or number combinations. There are many wild cards that can make the game fun.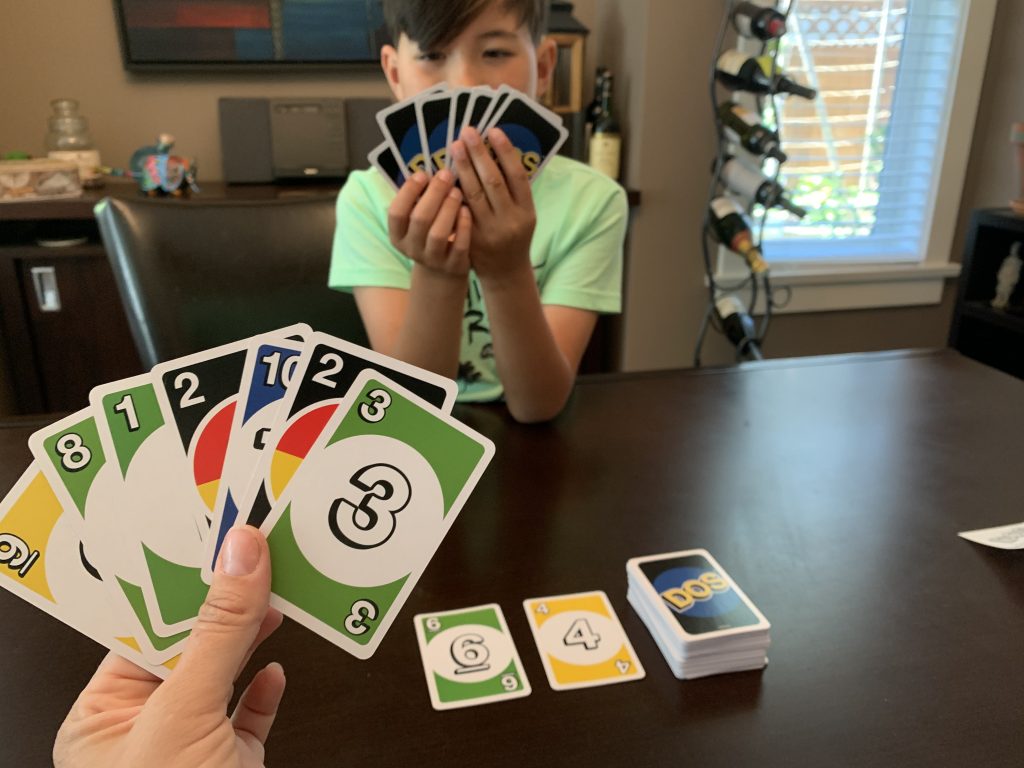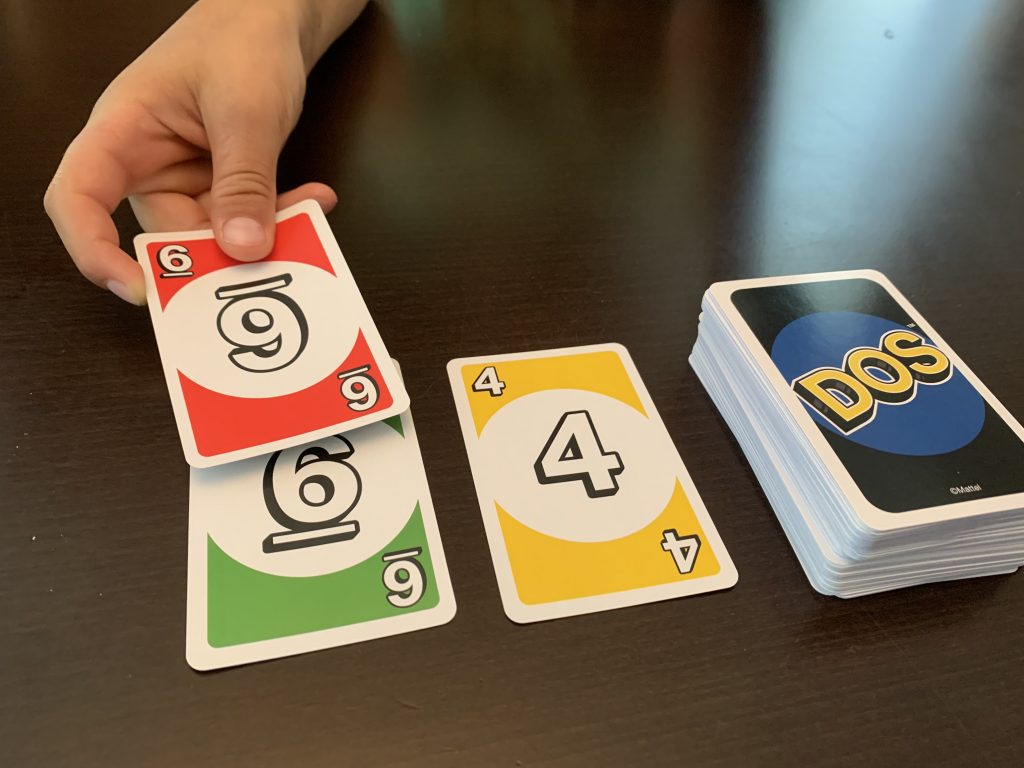 Ways to play DOS:
> The player can play a single card and match the number of the card in the center row
> The player can play two cards that add up to the number in the center row (regardless of colour)
> If you match the colour AND the number you earn a bonus at the end of your turn
> The Wild DOS card counts as a 2 of any colour
> The Wild # card counts as any number from 1 – 10
> If you have exactly two cards in your hand you need to say "DOS"
My son and I have played the game several times and are getting quite good at it.
I love how portable this game is. It's perfect to bring along on road trips and camping.
Want to add DOS to your game collection? Get it here from Indigo.ca.
.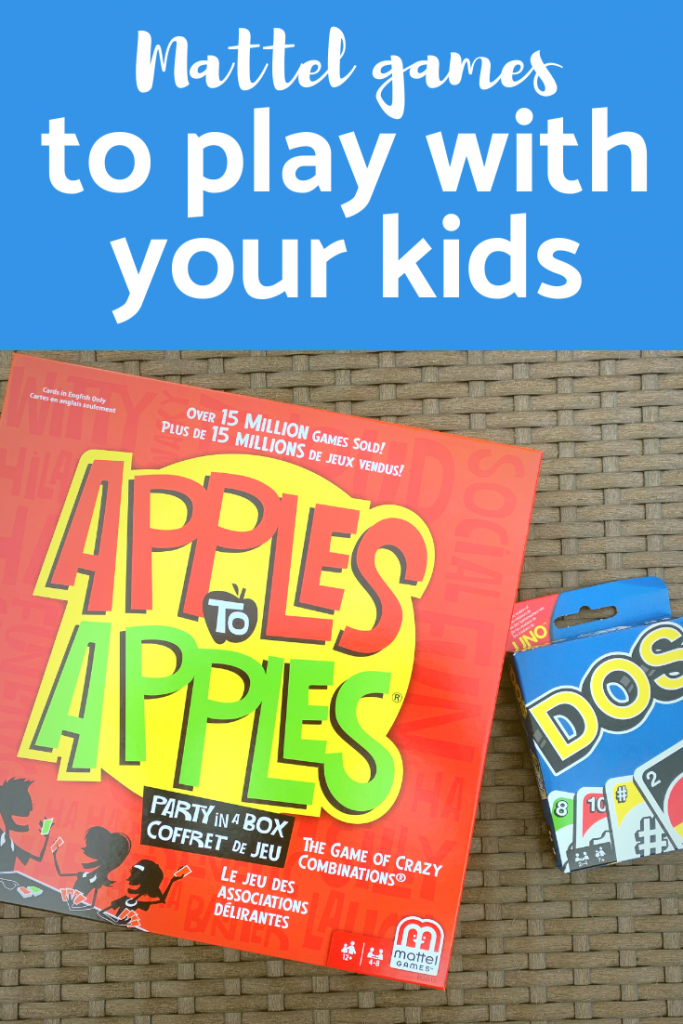 Giveaway!
My friends at Mattel are giving away BOTH games to one of my lucky readers. To enter, name me one of your favourite family board games then fill out the Rafflecopter form below.
Giveaway open to Canadian residents only. Giveaway runs from June 29 to July 7, 2020. Mandatory question must be answered to be eligible to win. See my Terms & Conditions for full giveaway info. Void where prohibited.