Every fall I realize I am in a rut when it comes to making dinners for my family. When we're back at school I notice that my go-to meals are on repeat and my family gets bored about what's for dinner.
This year, I decided to add new recipes to my repertoire with a few Epicure dinner ideas.
Disclosure: This post contains affiliate links for your shopping convenience. 
Cha-Cha Chili
This delicious chili can be made in the slow cooker or on the stove top.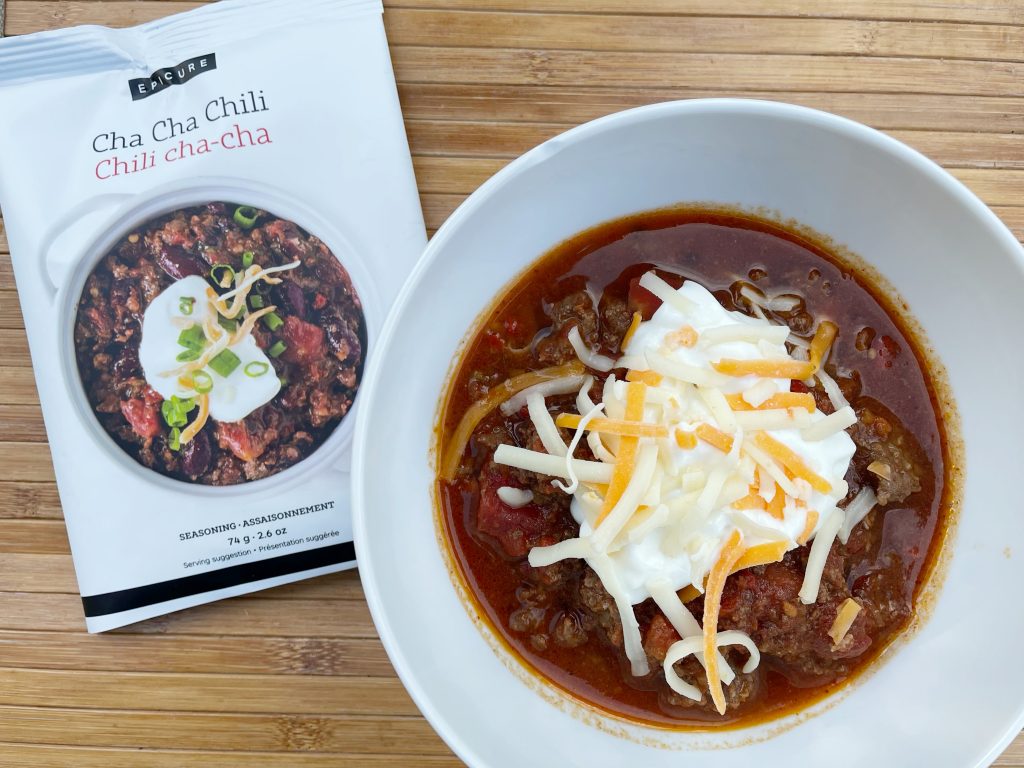 Ingredients in this seasoning include onion, red bell pepper, green bell pepper, chili powder, tomato, garlic and ancho chilies.
I find Cha-Cha Chili has just enough heat.
I make it with ground beef but you can also make it with tofu, lentils or black beans. This is an easy weeknight meal that will leave everyone feeling satisfied.
.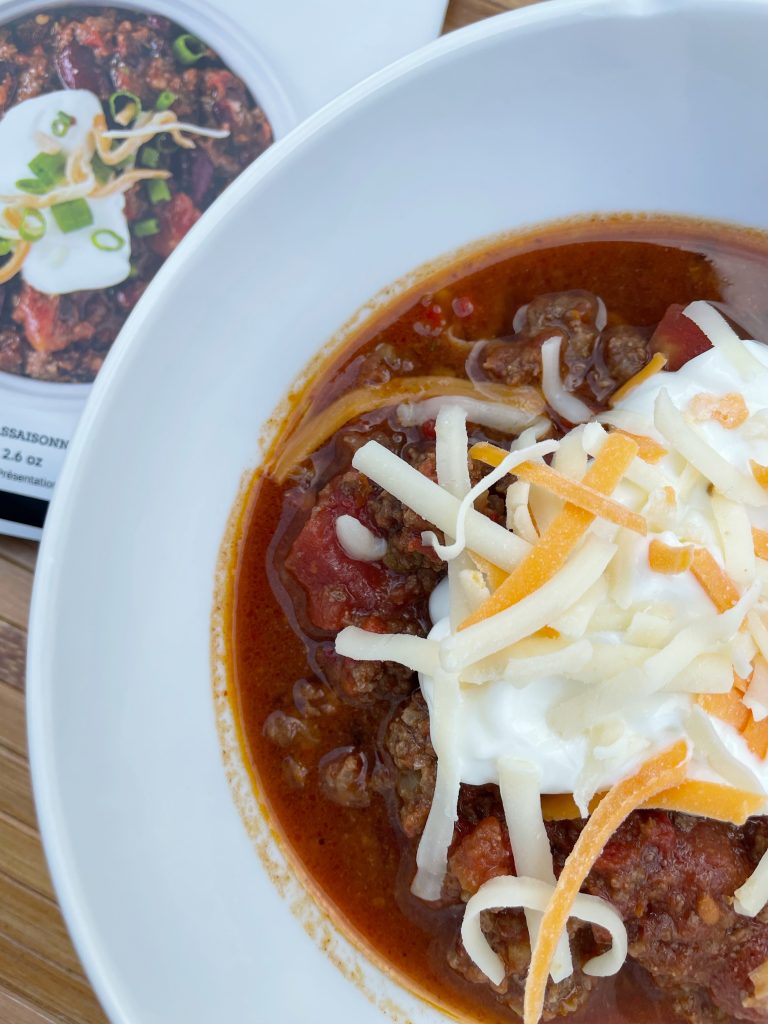 General Tao
Feeling like having asian for dinner but don't want to order take-out? This General Tao seasoning mix will absolutely take care of that craving.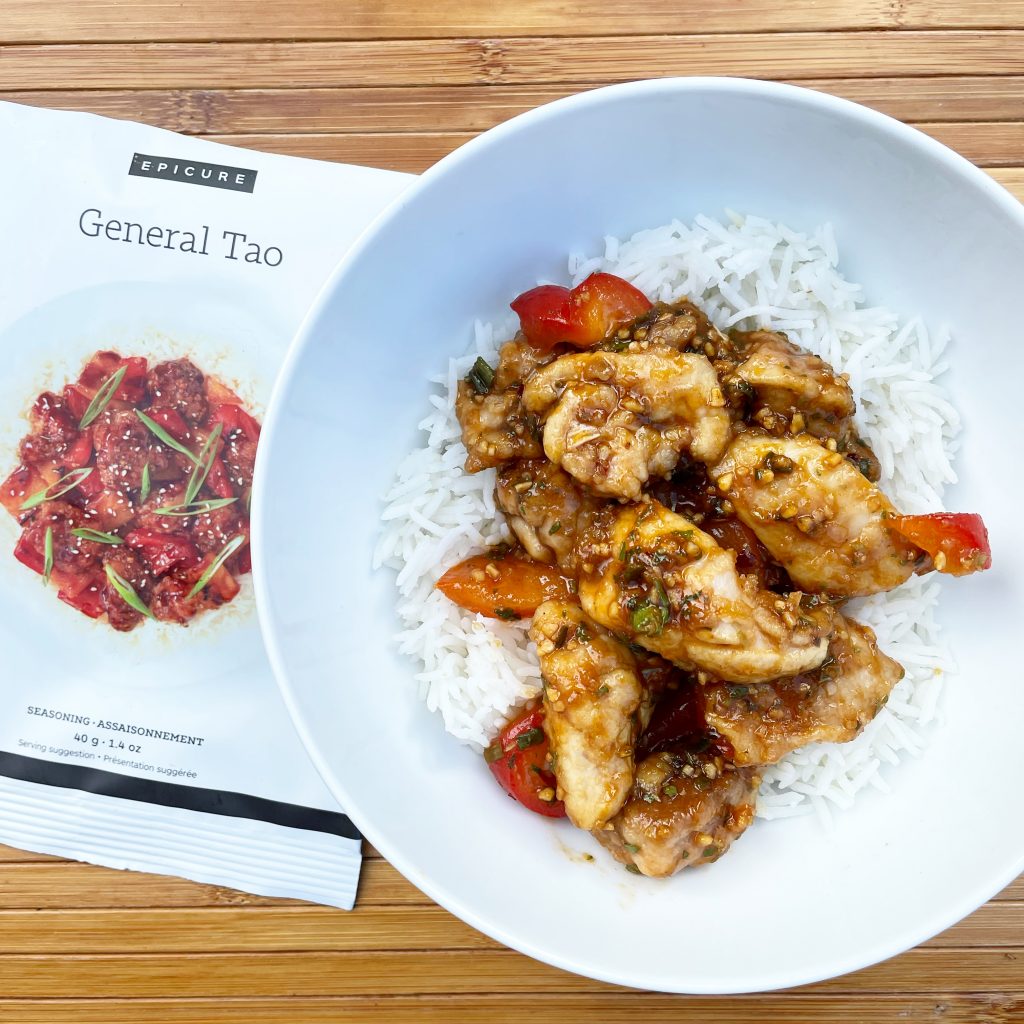 Ingredients in this seasoning include organic cane sugar, garlic, chives, spices and chilies.
I make this recipe with bite size chicken and serve it over rice. A vegetarian option for this recipe would be to use tofu, cut into cubes.
My family likes this sweet and gooey stir-fry. It's a quick meal to prepare (it takes about 20 minutes to make) and makes great left overs.
Hearty Beef Stew
This Hearty Beef Stew is an easy prep meal can be made in a pressure cooker or slow cooker. It has a good toasted black peppercorn taste and is loaded with your favourite grocery store staples.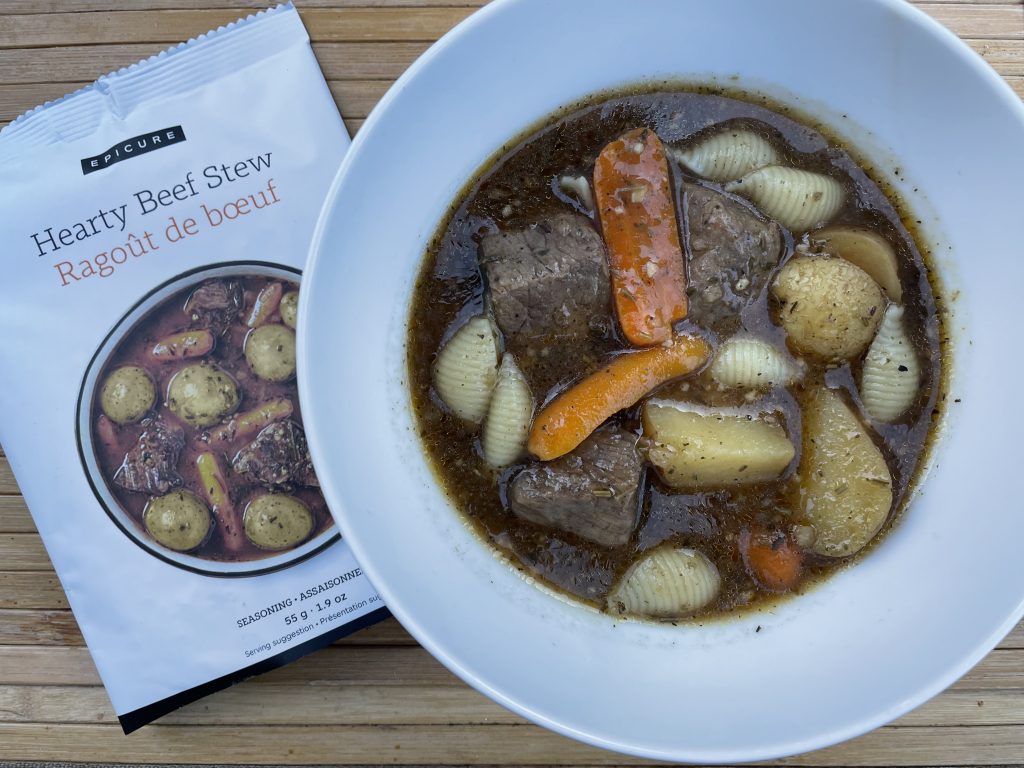 This blend is vegan and one package makes 6 servings.
I add cooked pasta shells to my beef stew in the last 30 min of cooking to add a little extra goodness.
.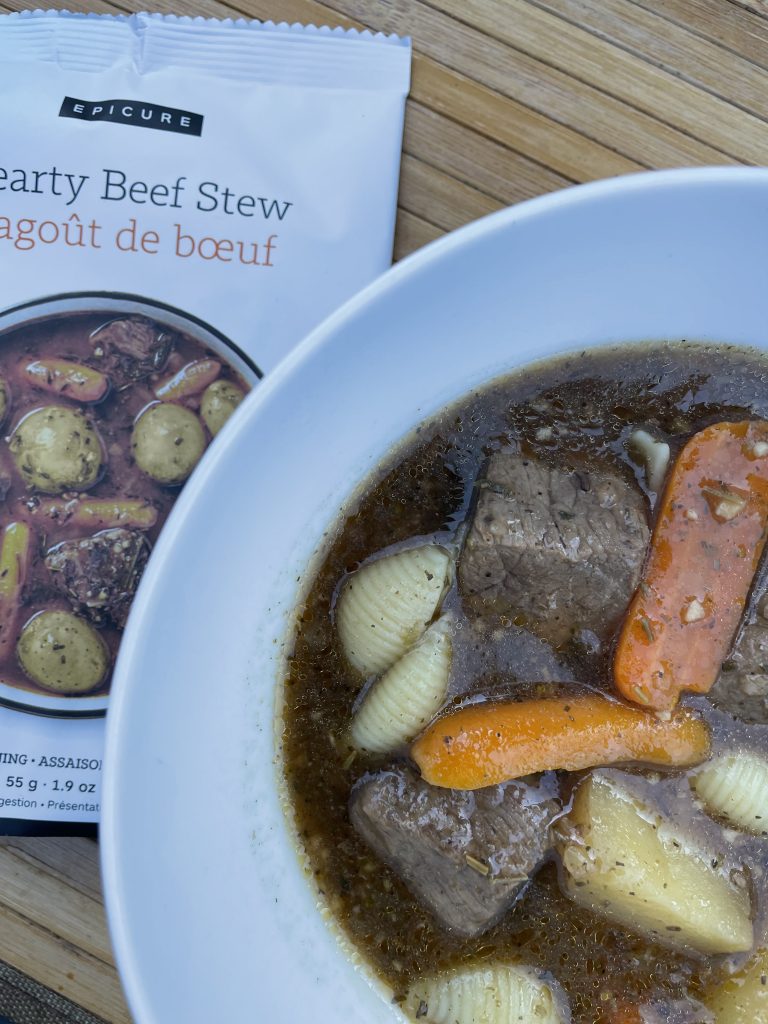 Ingredients include onion, inactive nutritional yeast, tomato powder, sea salt, garlic, celery, rosemary, thyme, organic tamari powder, black pepper and leek.
Mac & Cheese
This comfort meal can be made the traditional way (my kids' favourite) or can be used to make Mexi Mac & Cheese, Pizza Mac & Cheese or Tuna Casserole. 
Epicure Mac & Cheese is healthier than most store-bought versions. Plus, with every Mac & Cheese you buy, Epicure donates a meal to a family in need.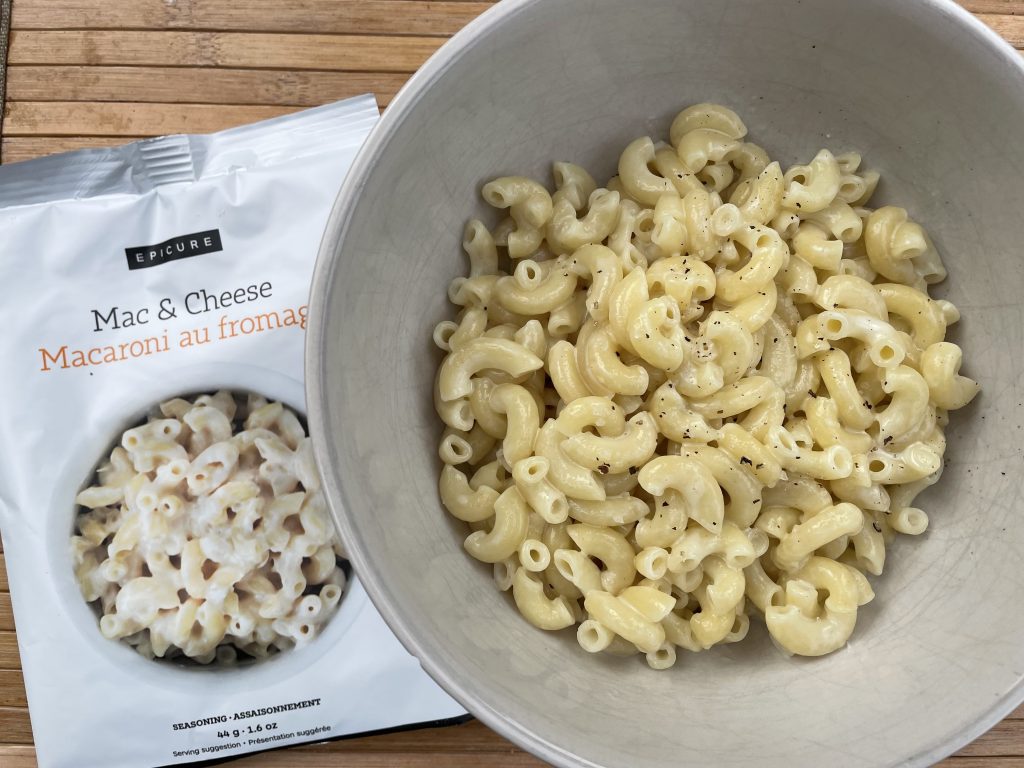 Ingredients include cheddar cheese flavour, whey, buttermilk solids, salt, sodium phosphate, mustard flour and onion.
.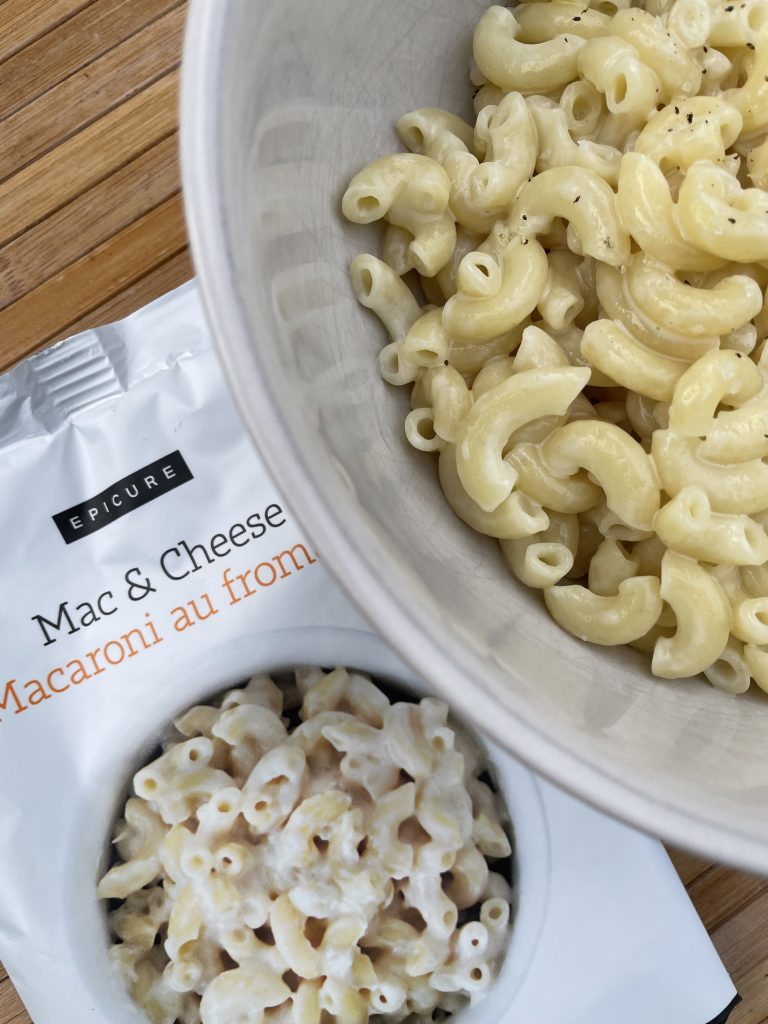 Hearty Minestrone
This Hearty Minestone is a perfect fall soup. It's hearty and full of flavour. Simply add pasta, a can of diced tomatoes and some frozen veggies to this seasoning and dinner is done.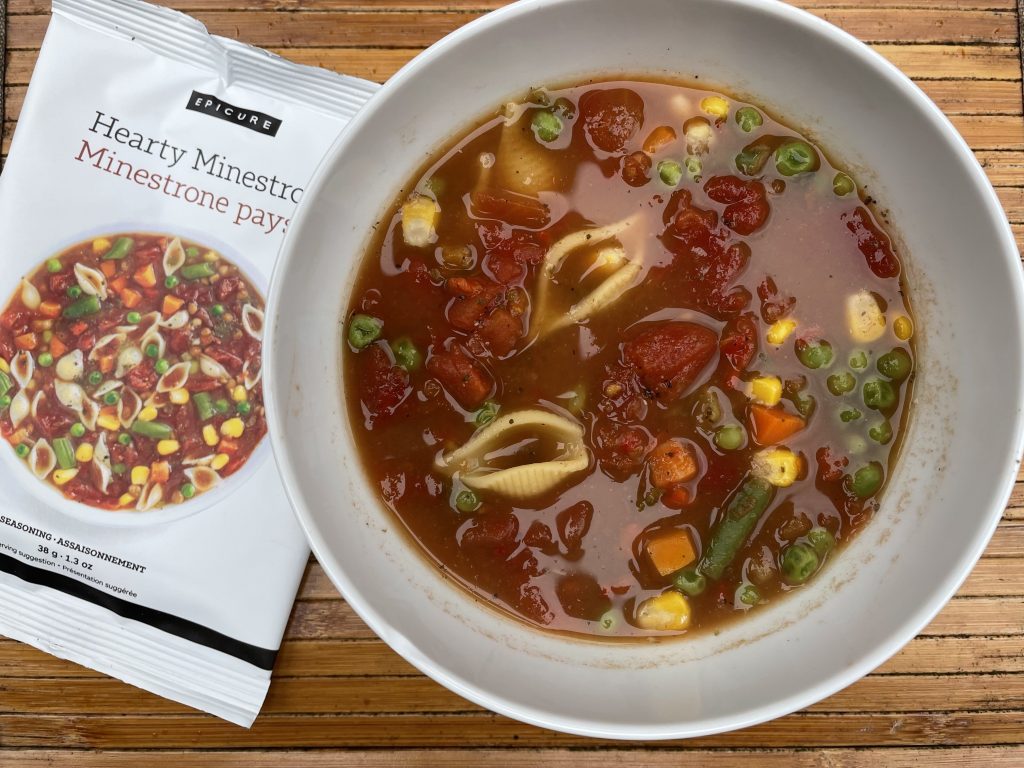 Ingredients include red bell pepper, inactive nutritional yeast, green bell pepper , garlic, herbs, mushroom, chives and chillies.
.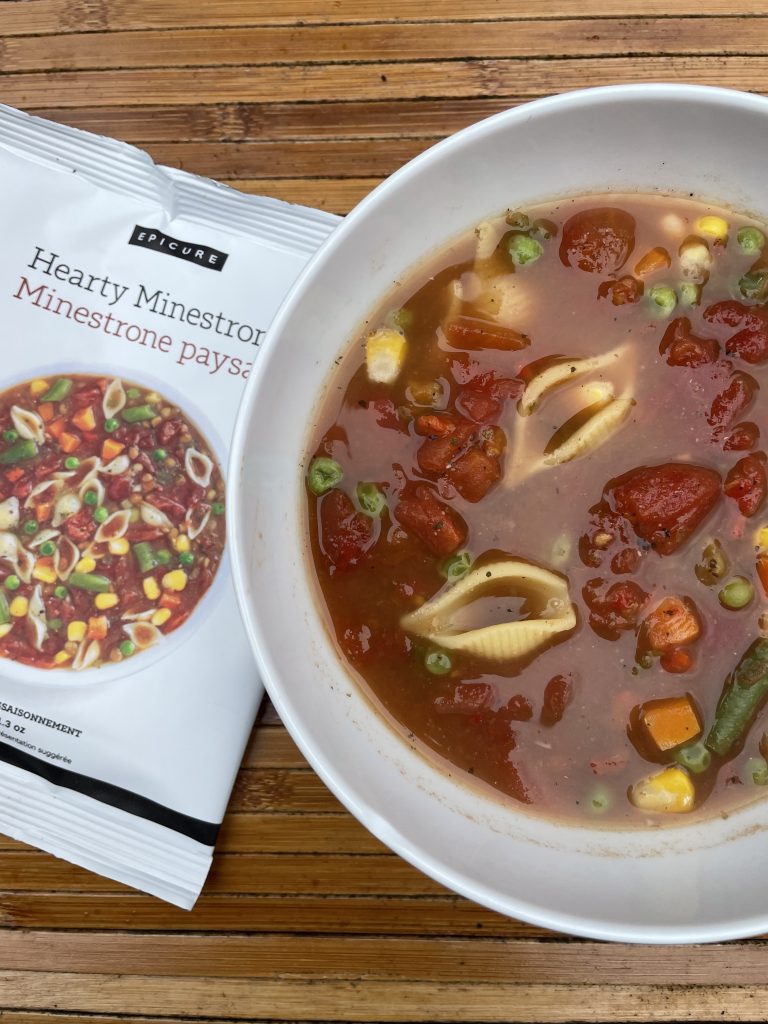 All these Epicure meals are delicious and great to have in your pantry for when you need a good and healthy dinner idea. 
I like making at least 2 Epicure meals per week, it takes the pressure off of coming up with what's for dinner and I know it's stuff my kids will eat.
Quick Links
Want to stock up on Fall Epicure seasonings? Here are direct links to the meal listed above:
I'd love to know, which of the above meals would you most like to try?