I have always been one to pack many many snacks for myself and my kids when we go on any trip.
I can't imagine getting on a plane without some snacks in our carry-on to keep us satisfied until we get to our destination.
I was so impressed with so many new snack options at my Costco warehouse this week.
Here are some of my suggestions for the best Costco snacks to pack for your next trip.
1 > Kashi bars
Costco has a great 2 flavour pack of Kashi bars available now. Boxes include 20 Chocolate Chip Chia bars, and 20 Honey Oat Flax bars.

.

2 > THINaddictives
These tasty almond thin cookies are delicious. Our warehouse currently has a Mango and Coconut version too.

.

3 > Goldfish
You can't go wrong with these snacks. My kids love snacking on these. These small packs are perfect for travel.

.

4 > Walkers Shortbread cookies
These are new in our warehouse and I am OBSESSED with them. The cookies are soft and buttery and absolutely perfect. They are a must-have in your pantry and as a snack for your next vacay.

.

5 > Celebration cookies
Hello, chocolate and butter cookies combo. If you haven't had these before, do yourself a favour and pick up a box. They are delicious. I love these 2-pack packages for travel.

.

6 > GoGo Squeez
FYI – kids can bring these across security (at least, mine have always had no problem!). These organic apple sauces are great to pack in a carry-on. I love that Costco now has a variety pack, because who doesn't love the apple and peach combo?

.

7 > SunRype Fruit to Go
These bars are another great snack to bring along in your bag. The Costco pack comes with four varieties and are all so tasty.

.

8 > Welch's Fruit Snacks
My kids still ask for these in their lunches and for their snack pack when we go away. These mixed fruit gummies are sure to help your kids not get hangry.

.
I'll be bringing a variety of these on our next trip. I'll also pack snacks in reusable containers for everyone to enjoy on the plane.
.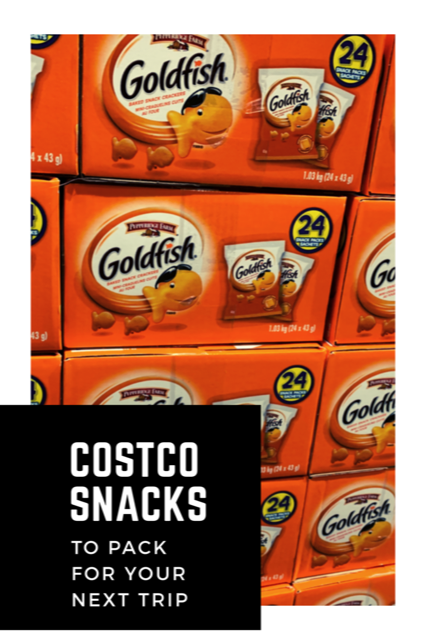 I'd love to know, what's your go-to snack when you're traveling?