I'll be honest with you. I don't always pay attention to what I eat. I am often on the go and resort to quick meals. I don't pay attention to the breakdown of my meals (am I getting enough protein? vegetables? grains?). That's why I was really inspired to try the Epicure 3-Day Reset. 
The 3-Day Reset is a system designed to help you get back on track, control cravings and jumpstart weight loss. The 3-Day Reset is made of balanced meals with optimal protein at every meal. Each meal includes lots of veggies and whole grains that provide your body with antioxidants and fiber to help keep you full. There's also NO snacking during the 3-Day Reset.
.

It sounded perfect for me. Any program can be tolerated for 3 days, right?
The 3-Day Reset comes with:
Three samples of the Sweet Coconut Optimum Vegan Protein Blend
One Miso & Ginger Nourish Dressing
One Basil & Tomato Nourish Dressing
A recipe book to follow for 3 days (recipes include: Wake Up Awesome Smoothie, Miso Ginger Nourish Bowl and Italian Dinner Bowl)
A Shaker (current gift with purchase)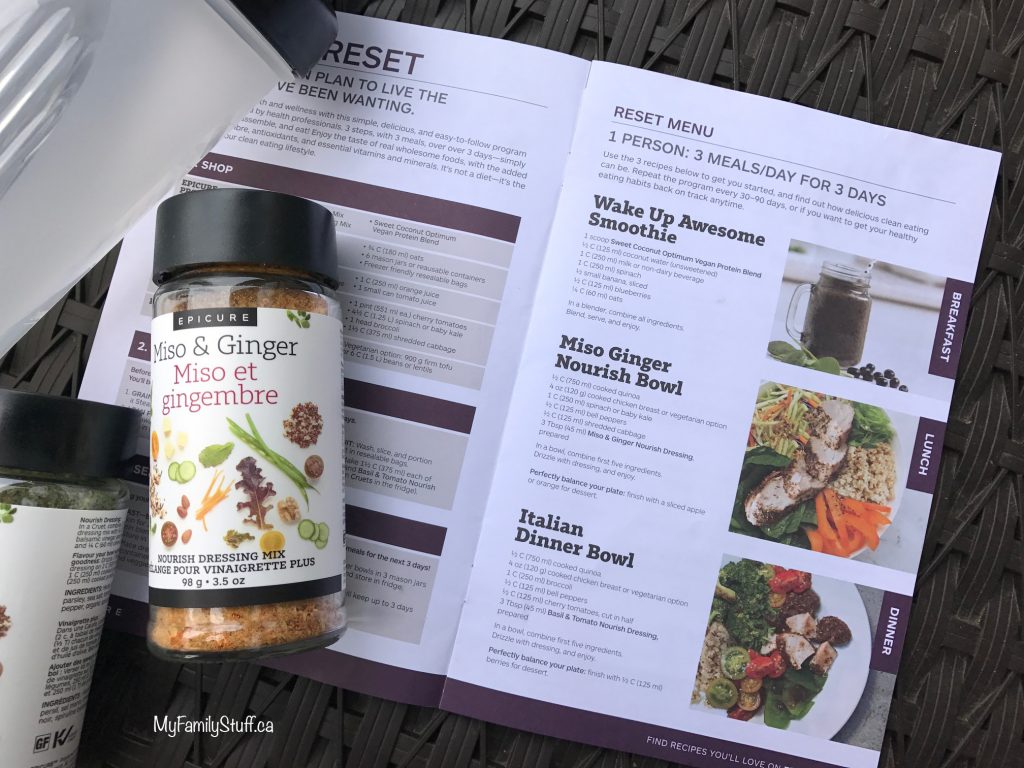 I got ready for my 3 days by going grocery shopping. I bought chicken breast, quinoa, greens and more. I was ready to start this program with a bang!
Day One
Breakfast
I woke up late (it was Sunday) so had my first smoothie at around 10am. I've had many smoothies in my days but not one with protein powder and oats. I was a little worried of what the texture would be like. I blended my first smoothie and gave it a go.
I really enjoyed it! I absolutely loved the faint coconut taste and didn't even notice the oats. Breakfast done. That was easy.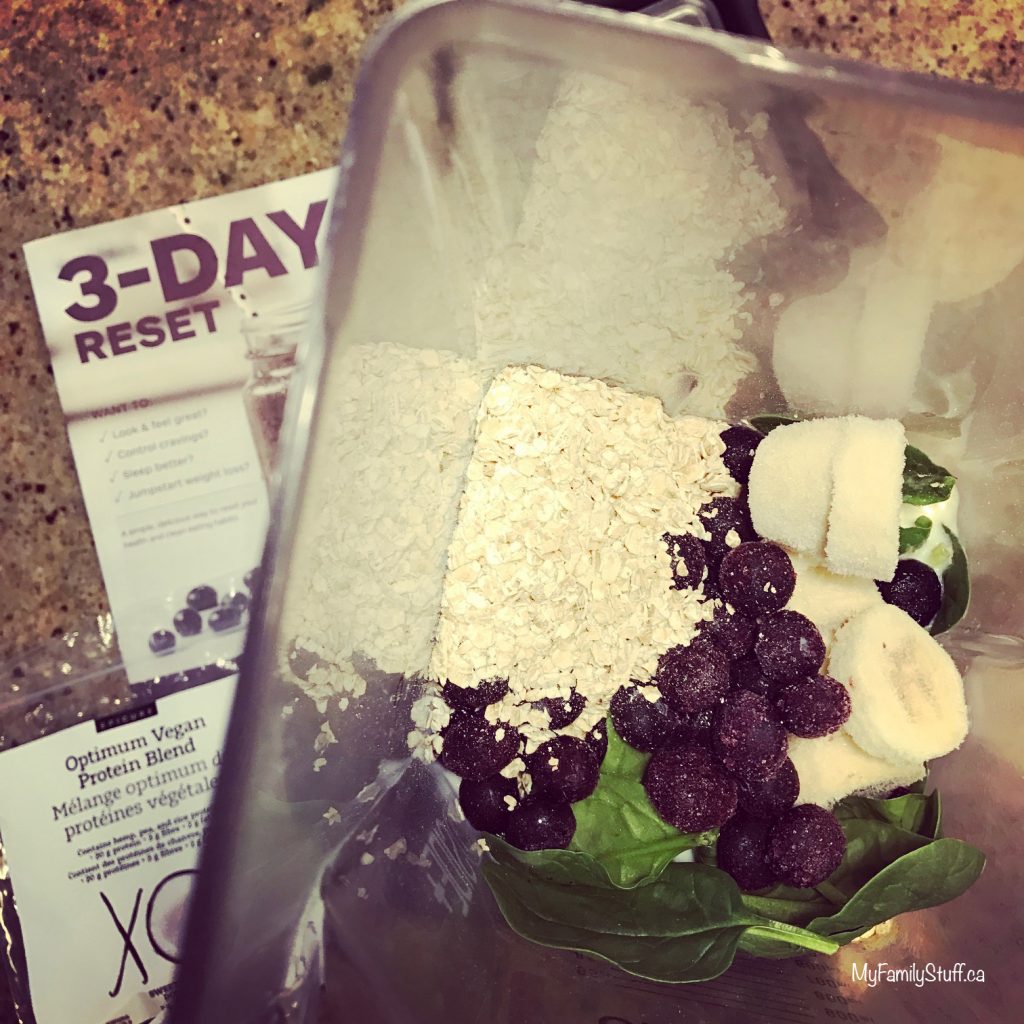 Lunch
I prepared chicken breast and quinoa for the next 3 days in one go. I also made both dressings.
.
I wasn't really hungry but ate lunch just before 1 pm. I made the chicken breasts in the Epicure Steamer (this kitchen tool is amazing) and prepped the quinoa over the stove.
My first Miso Ginger Nourish lunch bowl was really good. I really liked the dressing. To be honest, it was a big portion (and I measured everything very carefully). I couldn't finish my entire bowl. I had left-over quinoa and a bit of chicken. Overall I was very satisfied with this lunch.
** One thing going through my mind: Am I going to get sick of eating chicken for 3 days?? Not sure how to answer that yet.
Dinner
The recipe for dinner is very similar to lunch but it uses a different dressing and adds broccoli. I decided to stir fry my chicken and broccoli to eat this meal warm.
The new dressing (Basil & Tomato Nourish Dressing) is very tasty. I happily spread it over the entire dish.
The meal was quite a large portion again. I couldn't finish all the quinoa and forced myself to eat all the chicken. Overall it was a good dinner but I think I will warm up everything tonight (even the quinoa).
Snack
I had a snack at around 8pm – 1/2 cup of raspberries and strawberries. It was yummy.
I didn't feel hungry at all throughout the day. I did think of other foods but pushed these thoughts out of my mind. I can absolutely do this reset for 3 days.
Day Two
Breakfast
I wasn't feeling super hungry when I woke up (great!). I waited about 30 minutes after waking up to make my smoothie. It was very tasty and I really enjoyed it.
Lunch
I mixed the entire salad up today and it was gooooood. I am really enjoying the Miso & Ginger Nourish dressing (which is weird because I'm not a fan of ginger). Again, I found the portion quite large so I didn't finish it all. But was very satisfied.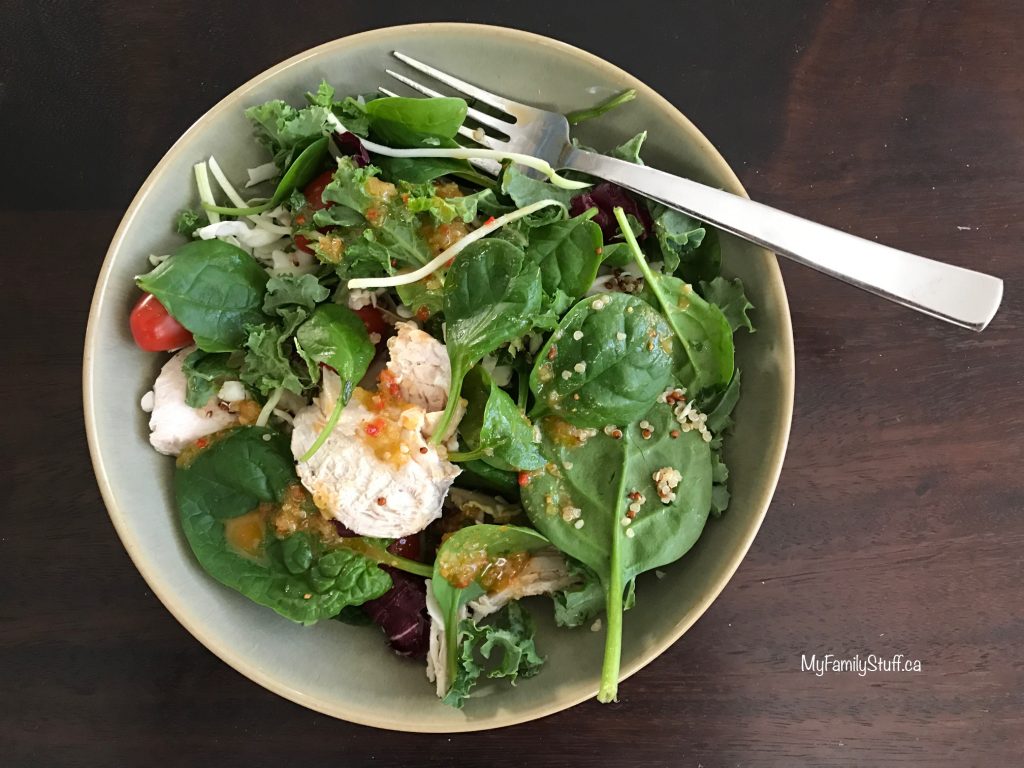 Dinner
I stir fried the entire meals with the Basil & Tomato Nourish dressing. I really enjoy the quinoa warmed up and I found that everything tasted really good stir fried in the dressing.
Snack
I had a small bowl of berries again around 8pm.
Overall I felt a little hungry today but nothing to panic about (nope… I didn't have to run to the pantry for an unhealthy snack).
Day Three
I'm so proud of myself!!! I'm on day three!!!
Breakfast
I am absolutely loving the morning smoothie. Honestly, it's a highlight of my day. It tastes so good. I have to get the large tub of protein powder because I want to keep this healthy choice going.
.

It's important to note that I have NOT felt hungry at all during the three mornings that I've been doing the reset. I honestly had my doubts that I would be starving by lunch if I was only drinking a smoothie. I'm a changed woman. Morning smoothies are the way to go (unless of course you're going out for a delicious breakfast of eggs benny with friends). I'm honestly super sad that my protein powder samples are done.
Lunch
My husband and I both had the Miso Ginger Nourish bowl for lunch. This is a great meal. Both my husband and I love the dressing.
Dinner
My last official dinner on the 3-Day Reset. I'm super proud of myself! I heated it up again and enjoyed every bite.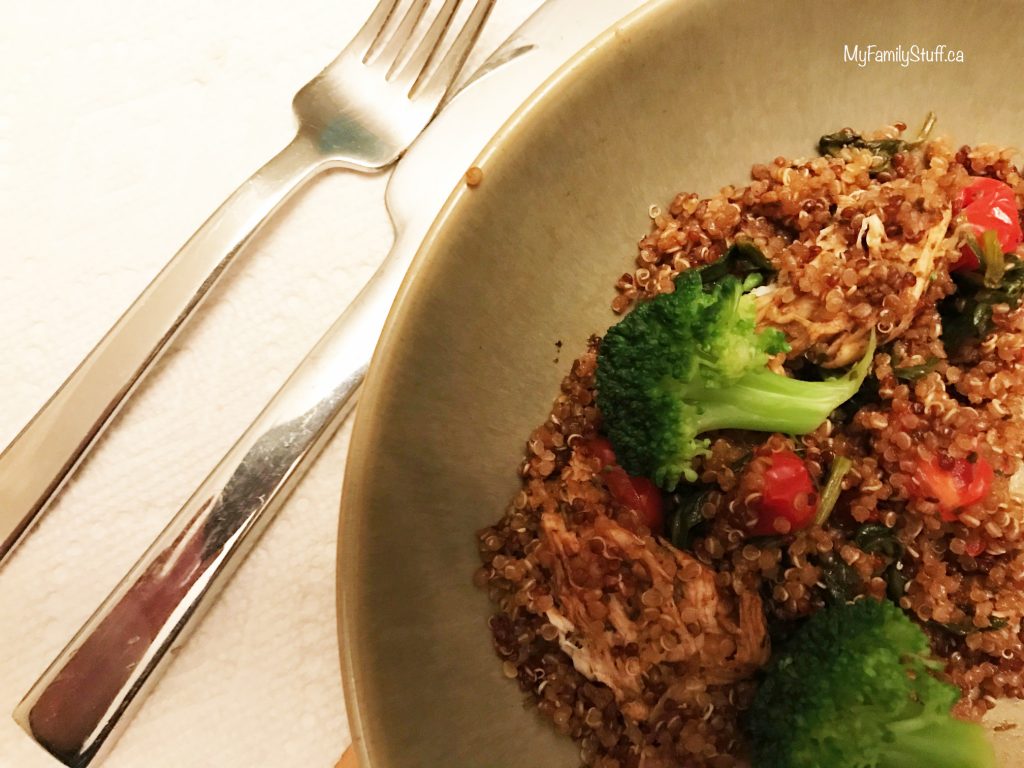 Results
Overall, the Epicure 3-Day Reset is totally do-able. Sure, it's a lot of the same meal for 3 days but I could feel a significant change in my body by day 2 and that alone made it worth it.
My results were impressive! I lost 5.6lbs, a few inches of my tummy and an inch off my thighs. I haven't seen results like that with anything else I've done before.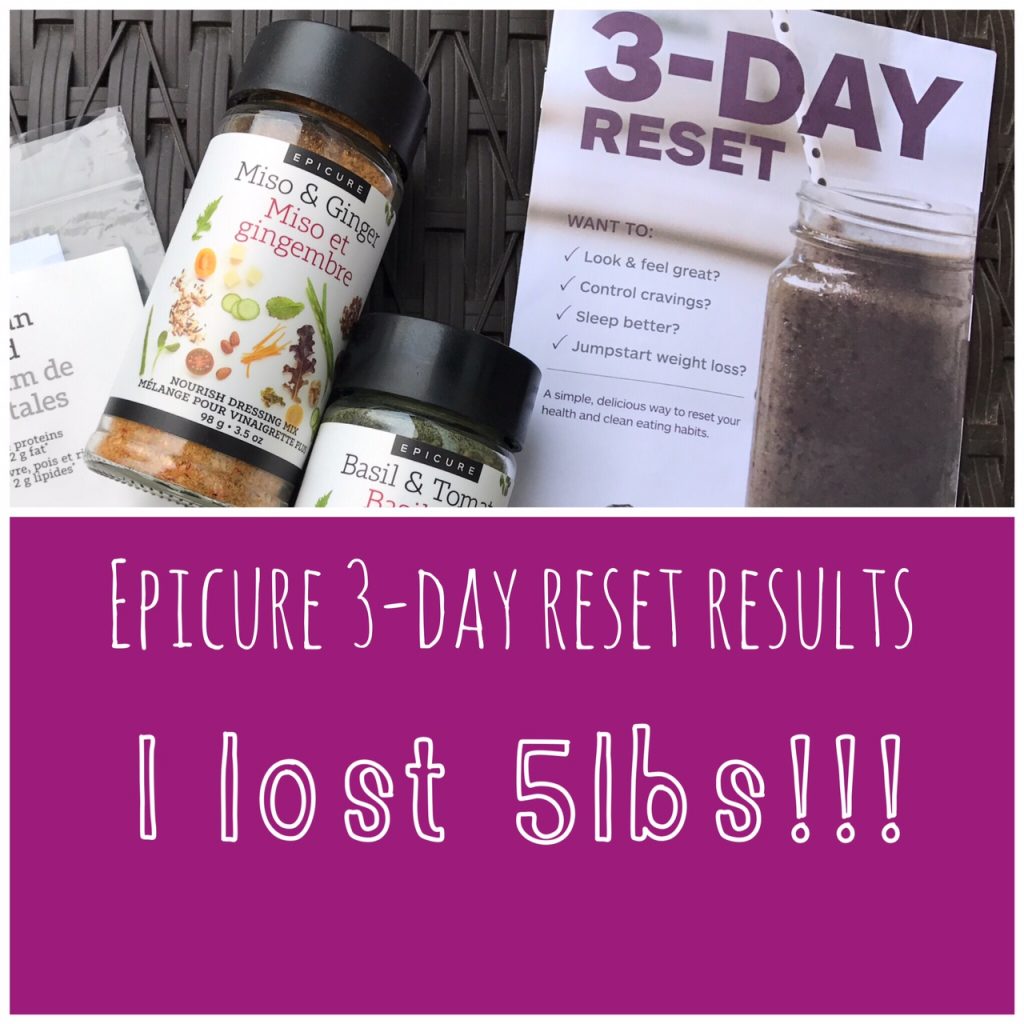 The recipes for the smoothie and the meals are easy to follow and make. It's important to note that I was drinking a lot of water throughout this process too (8-10 cups per day).
I am not personally done with the reset. I plan on continuing having the Wake Up Awesome Smoothie every day. I am making a conscious choice to eat the Miso Ginger Nourish Bowl at least twice per week. I think these little changes will make a BIG impact on my health, weight and overall well-being.
Sure, I may be eating spaghetti and meatballs for dinner tonight but I think I've earned it. I'm very proud of the results and would recommend the 3-Day Reset to ANYONE!
Epicure recommends the Good Food, Real Results program once you've done the 3-Day Reset. This program includes many of Epicures top selling products that can help you continue eating right.
Where to Buy
You can purchase the 3-Day Reset and the Good Food, Real Results Program online or through an Epicure consultant.
To learn more about Epicure check out:
Disclosure: Epicure provided products for this review. All thoughts and opinions are my own and I really really recommend the 3-Day Reset!
.