My family will be traveling to the US this spring break. So many people are questioning why we're going (our Canadian dollar isn't worth much over there…) but I still think it's worth going.
I don't want our low dollar to keep us away from the beautiful beaches of California and Hawaii.
In preparation for our upcoming holiday, I decided to ask my friends what they always pack in their bags when traveling. Basically, I don't want to forget anything. I don't want to buy Tylenol or Band-Aids when I get to the US and have to pay in US dollars…
Disclosure: This post contains affiliate links for your convenience. As an Amazon Associate, I earn from qualifying purchases.
Here are 19 great items to put in your checked bag:
1) Snacks: I leave with granola bars, soup mixes and tons of snacks. A friend mentioned she packs many Gluten-Free snacks for her child since those can be difficult to find sometimes.
2) Sunscreen and Aloe Vera: I've seen sunscreen for up to $25 in Mexico! I don't want to pay that so I stock my luggage with sunscreen.
3) Bandages: These go in the carry on AND the checked bag. Another item I don't want to buy when I'm away.
4) Medicine: Tylenol (kids and adult), Gravol, Ibuprofen etc…) I basically leave with a small pharmacy in my bag. TIP: Bring your prescription drugs with you in your carry-on bag!
5) Zippered baggies: Just pack these. You'll need them for tons of stuff.
6) Reusable shopping bags: Some cities don't give free plastic bags when shopping. Reusable bags are also great to carry things to the beach or during outings. I love this six-pack of bags from MAXGOODS.
7) Mini First Aid Kit: Better safe than sorry! Plus mini first aid kits have things you might not have thought of!
8) Earphones: Do you want to pay to buy these on the plane? Nope, you don't.
9) Baby Wipes: even if you don't have a baby! These are great for cleaning up a quick mess, wiping a dirty face and more. My go-to brand is The Honest Company Disposable wipes.
10) Snorkel and Mask and/or goggles: This is a must-have if you're going to a tropical place.
11) Tweezers: These are an important tool to bring for so many reasons!
12) Flip flops: Whether you're going to a hot destination or not, flip flops are a must when going to the pool or hot tub. They are also good to have in the hotel room, who wants to walk bare feet in the room?
13) A waterproof poncho: No one wishes for rain when on holidays but it's best to be prepared if the weather isn't perfect. Pick up a waterproof poncho from the dollar store before leaving on your trip just in case.
14) Bottle opener: Yes! Some hotels don't provide bottle openers. I personally don't want to buy a souvenir bottle opener.
15) Flashlight: Some hotel rooms have them but better safe than sorry!
16) Night Light: This is a must, especially if traveling with kids. Bring a night light for the bathroom instead of using the bright bathroom light. These Safety 1st nightlights are a great choice, they pack down small and has a long lasting LED light.
17) Clothes pins: Can be used for SO MUCH including closing the blinds in the room if they don't close tight.
18) Puddle Jumpers/floaties for kids: If you've got a pool at a hotel bring these. They offer a bit of peace of mind and are expensive to purchase when you get to a vacation spot.
19) A good book: Self-explanatory.
Looking for more packing tips? Check out these posts:
.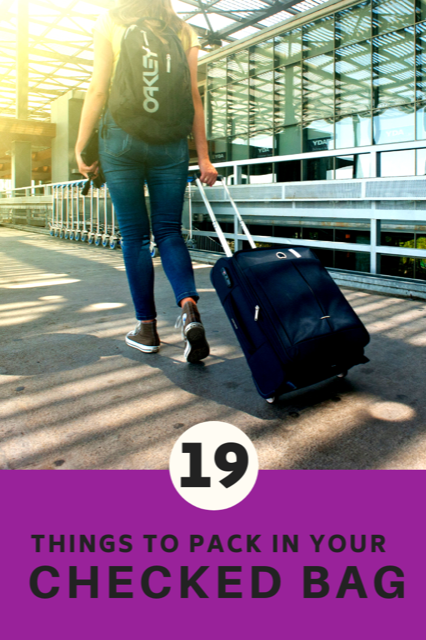 I'd love to know, do you have anything to add to this list?