I have had a nightmare week on Instagram.
If you follow me here, chances are you follow me on Instagram channel. I've always been transparent that Instagram is my favourite social media platform. I love sharing photos of our travels on my account, pics of my kids and promoting my favourite products on my channel.
I have always prided myself on being genuine and honest.
Needless to say, I was shocked when on Monday April 4th, I was hacked on Instagram.
What Happened
I am a pretty trusting person. I have made so many great connections on Instagram. When I received a DM on Monday afternoon from a friend, I thought nothing of it. It wasn't abnormal. It was friendly. It wasn't suspicious.
My friend asked me to send a screenshot of a link I would be receiving by text. He told me he was in the process of getting verified on Instagram. I thought nothing of it and wanted to help him. When the text came in, I took a screenshot and sent it to him.
.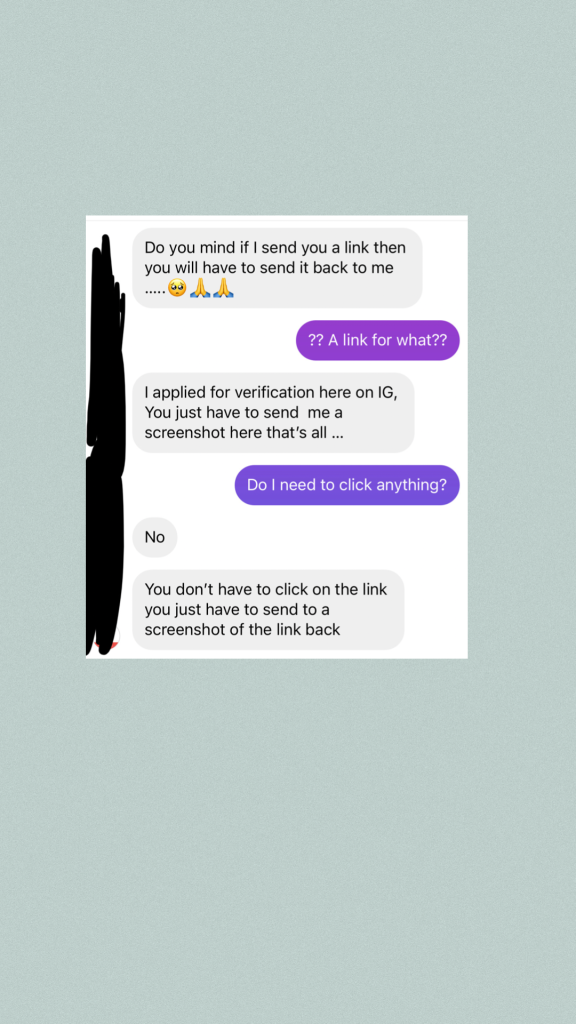 Minutes later, I lost all control of my account. I was hacked.
I panicked, tried to log on on multiple devices but had no luck. I immediately changed my Facebook password and started to advise friends and started warning people.
The nightmare began. Within minutes, the hacker changed my username, email address and phone number. 
I received an email from Instagram saying that my email had changed on the account. It listed the new email address and had a link on how I could secure my account. This did nothing. It was a page of information on how to secure your account. It did not help, as my account was already hacked.

What it Looked Like
Once the hacker took over my account, he started posting crypto currency posts on my feed and in my stories.

.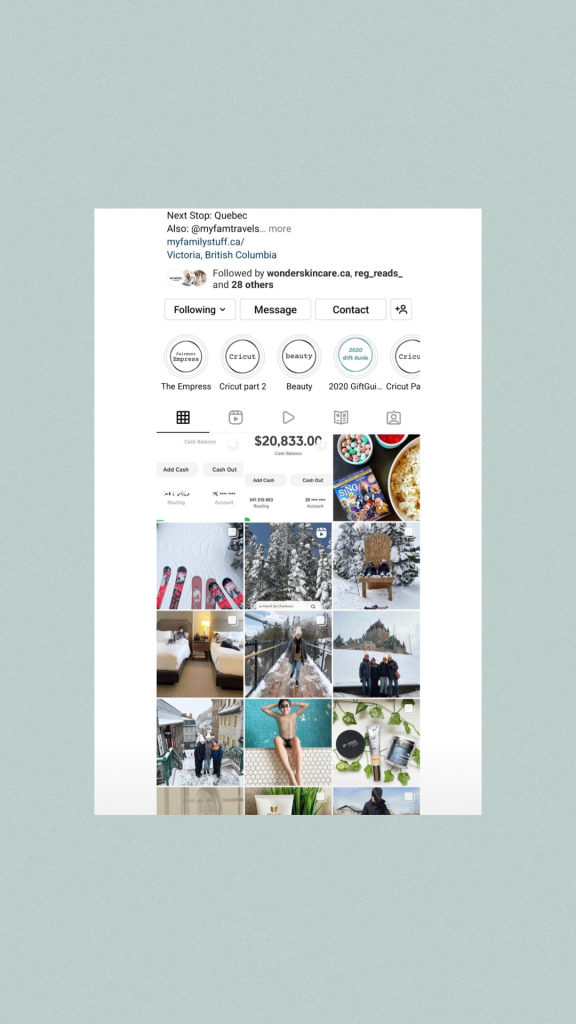 Throughout the week I was getting texts and messages from friends checking if I had asked them to send them a screenshot.
Basically, the hacker was pretending to be me and was asking my friends, family and followers to send them screenshots. There were all kinds of scenarios. Some asking for a vote, some asking for help being verified but always asking to send them a screenshot.
.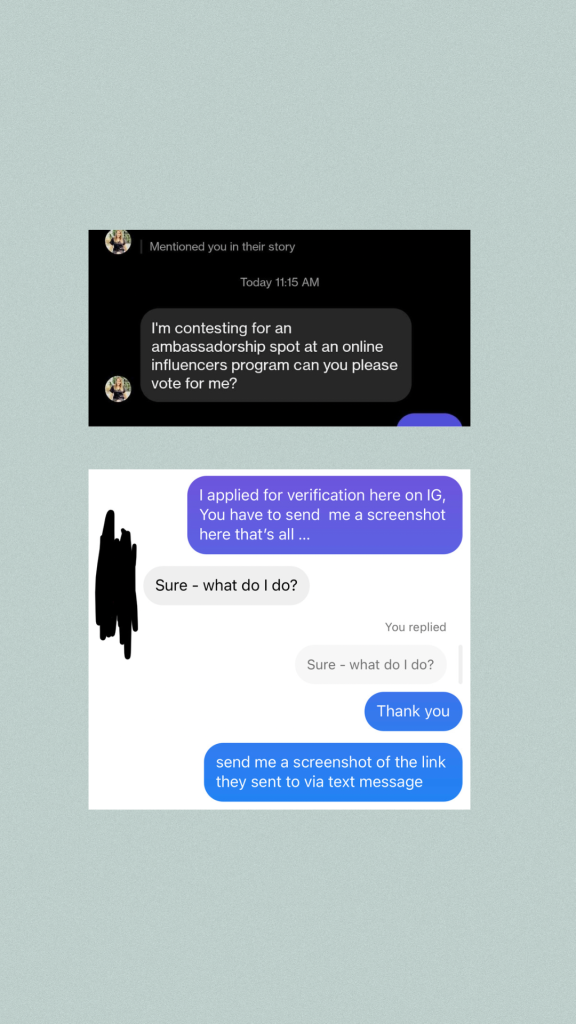 .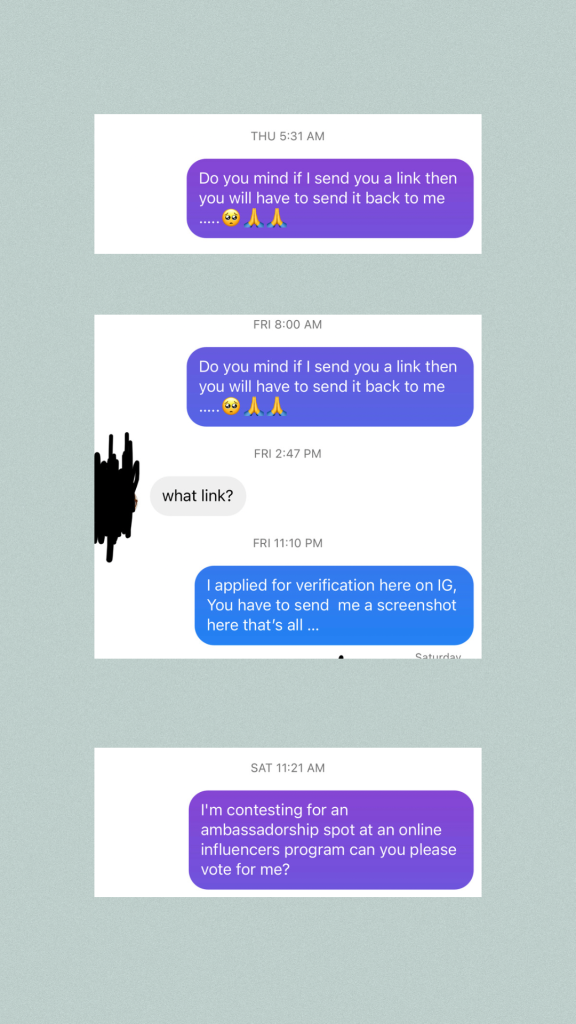 The screenshot being asked was a link to get into their Instagram account. Once the hacker got this, he would change the password to the account and have access to the account.
How Did I Get My Account Back
Getting access to my account again took some major determination. It was grueling, but I was not going to give up. I had 10 years of photos on this account, I had a great fan base, my Instagram account is where I express myself, share my thoughts, share my memories and work with incredible brands.
At first I contacted a friend that I knew had been hacked. He sent me a video to show me how to go through the process of sending a video selfie to Instagram.
.
On the first afternoon, I sent Instagram 9 video selfies. I was panicking. I needed to get this resolved quickly.
During the course of sending these selfie videos, ONE video was confirmed. I anxiously went onto my computer and started the recovery process. When you receive the confirmed email, Instagram gives you a 8 digit number to use to recover your account. In a panic, I did not follow the instructions and asked them to send me a pin. This pin was texted to the hacker.
Once the hacker got notice that I was frantically trying to recover my account, he changed the password again and made things more difficult for me.
I tried to send two more selfie videos that night but they were not accepted.
The next morning, I did not even have the option to send a selfie video. The hacker had changed my username, phone number and password. I then had help to contact Facebook. Since I have an Instagram Business account, I was able to speak to a person at Meta who opened a file for me and got me connected with Meta Concierge Support.
After explaining my situation (backed with screenshots of proof) I was told that they could help me if I did the following:
> Send a photo of a valid Government ID
> A notarized letter with all my account information
> Explanation for the request
> Acceptable business documents
> A typed declaration
I did all of this. Sent in the information and was told my case would be expedited. My next message from them was to tell me that I had to go through the video selfie process again.
Oddly enough, after sending this information, I was able to access the "forgot password" option and started sending video selfies again. (My husband thinks Instagram did this for me, I have my doubts).
This went on for 6 full days. I would send video selfies and they were denied, again and again. I believe I sent 21 video selfies in the end.
Finally, at 9:39pm on April 10th (7 days after being hacked) I received confirmation that my video was accepted.
.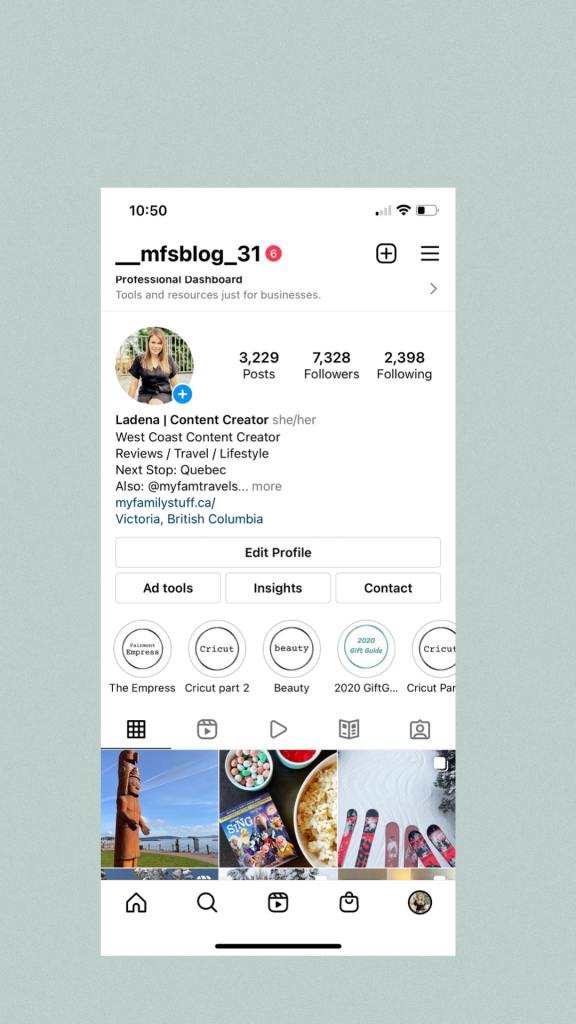 This time I did the recovery process on my phone. It was nerve racking but it worked. I was able to change my password and change my phone number. I am currently still waiting to change my username back to my real account name.
What you Need to Do
I highly recommend you:
> Secure your Instagram account with Two-Factor authentication
> Do NOT ever send anyone a link (even if they are your friends or family)
> Have some photos of your face on your Instagram account (this is how they compare the video selfie to prove that you are who you say you are)
> Print out and save your Instagram backup codes somewhere safe
If you've been hacked:
> Try to recover your account immediately (see YouTube video above)
> Alert your friends, family, fan base that you've been hacked
> Keep submitting video selfies, don't lose hope
Give Instagram Feedback

I am very disappointed in how Instagram dealt with this situation. I know I am just one of many people this has happened to. I was in constant contact with them while this was happening. I was actively telling them that someone was using my account to hack others on their platform.
I would have thought they would have wanted to stop this person immediately but I now realize I am just one small fish in the sea.
Want to give Instagram feedback about how they secure their accounts? You can fill in this form to give them feedback and suggestions on how they can improve.
https://www.facebook.com/help/contact/268228883256323?ref=u2u
Tell me, have you been hacked on Instagram? How long did it take to recover your account?