My family just returned from a fun adventure in Quebec City.
We made the decision to stay in Canada this spring break and continue to explore our beautiful country. We thought Quebec City would be a great place to experience with the kids.
Our trip was during the shoulder season, which meant we were going to experience a bit of winter and a bit of spring – this sounded perfect for us!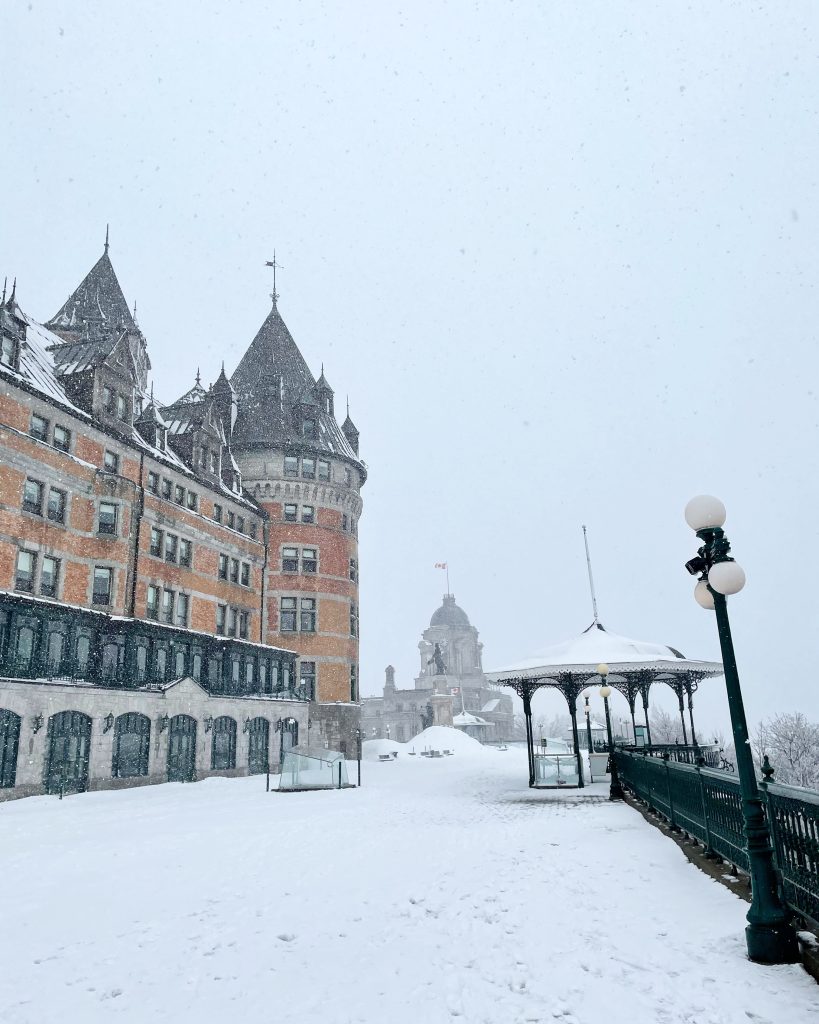 During this trip, we decided to make our home base the beautiful Fairmont Le Chateau Frontenac. I felt that the location was perfect for discovering Old Quebec and we have always been impressed with the Fairmont brand and their level of service and luxury.
Disclosure: The Fairmont Le Chateau Frontenac offered us special perks during our stay in exchange for a review. All thoughts and opinions are always my own.
About the Fairmont Le Chateau Frontenac
The Fairmont Le Chateau Frontenac is located in the heart of Quebec City. This Fairmont is a heritage property with stunning views of the St-Lawrence river. The Chateau Frontenac first opened in 1893. It has had many additions and renovations since first opening.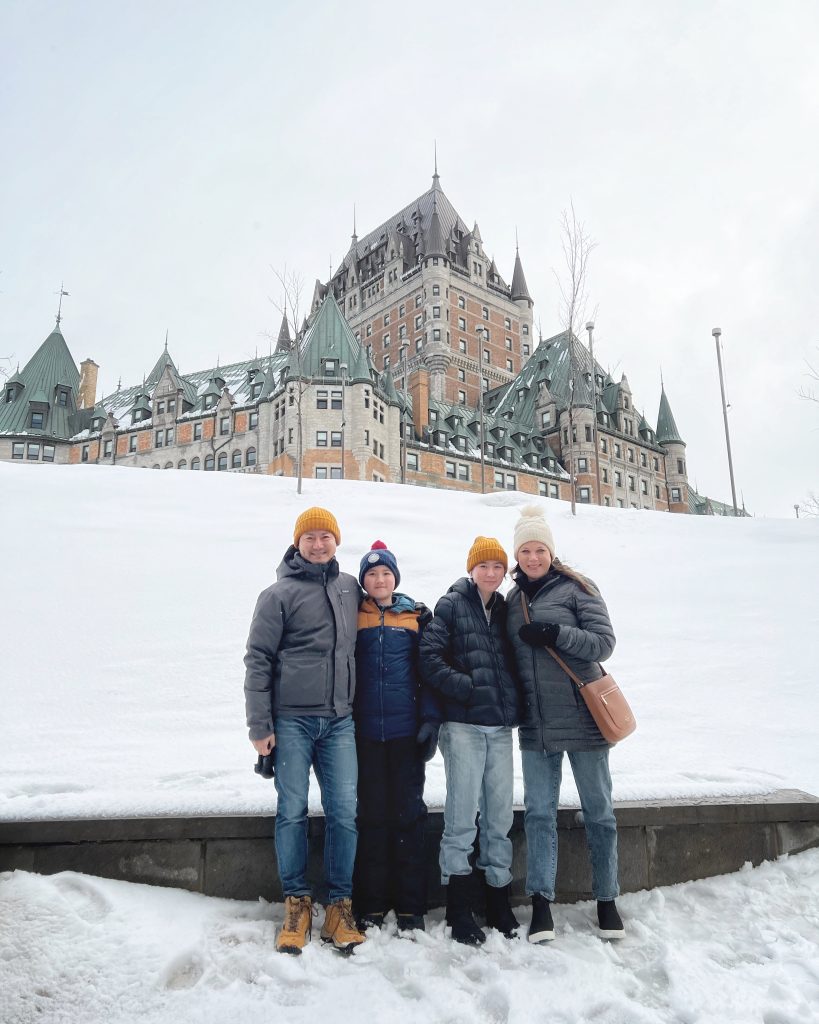 This castle in the city felt special from the moment we checked in. The lobby is grand and well decorated. There are historic photos and artifacts throughout the hotel which we enjoyed very much.
We loved the feel of the hotel.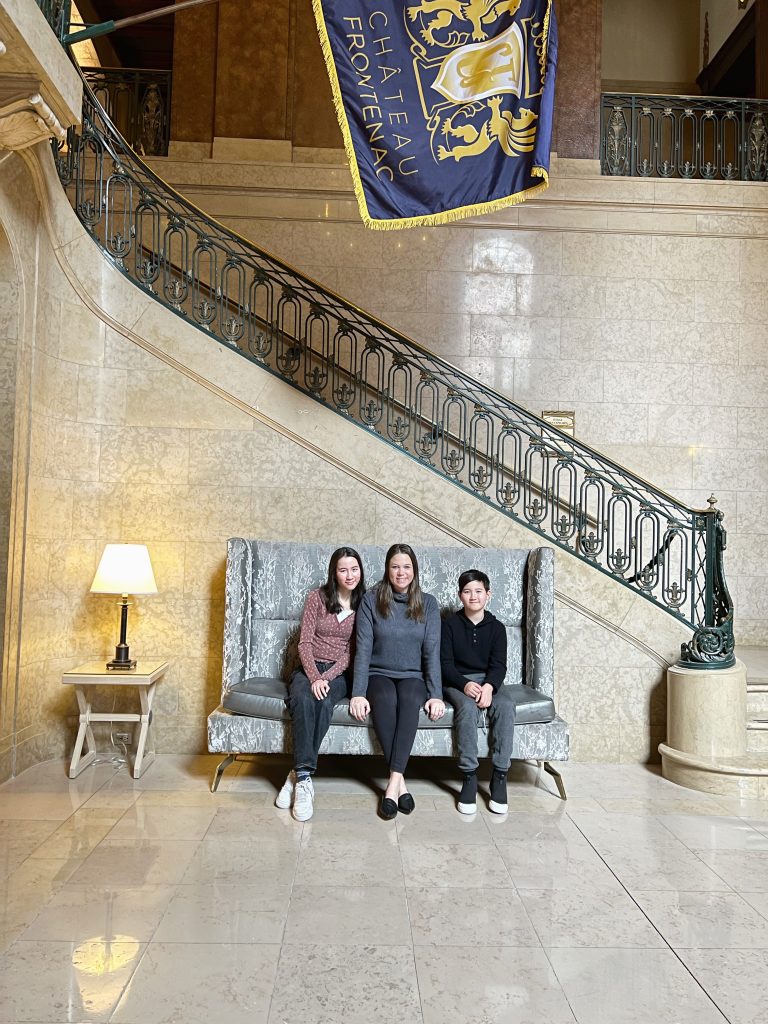 Our Stay
Since we were staying a Le Chateau Frontenac for 5 nights, I opted on booking us a junior suite.
This was a great idea for our family. It gave us more room to spread out.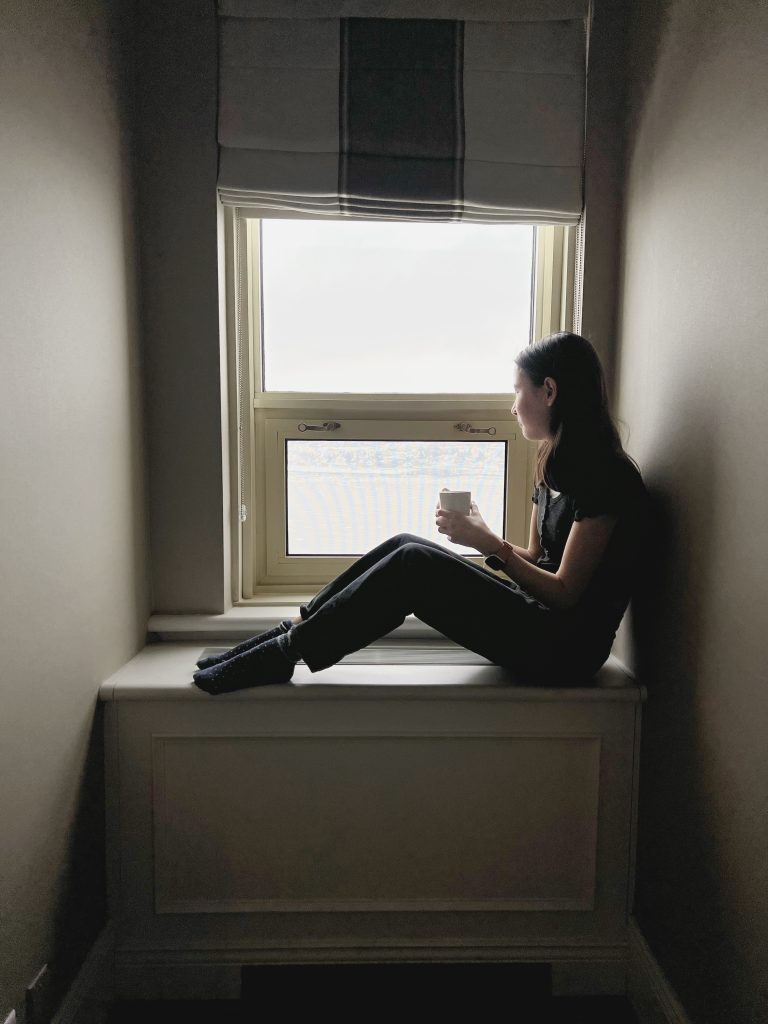 Our room had a lovely view of the St Lawrence river. I was in awe of the ice chunks in the river and enjoyed the view everyday of our stay.
The Junior Suite at the Fairmont Chateau Frontenac has a living room with sofa bed and a dining table as well as a separate bedroom with two double beds. Our room had a modern bathroom and two televisions.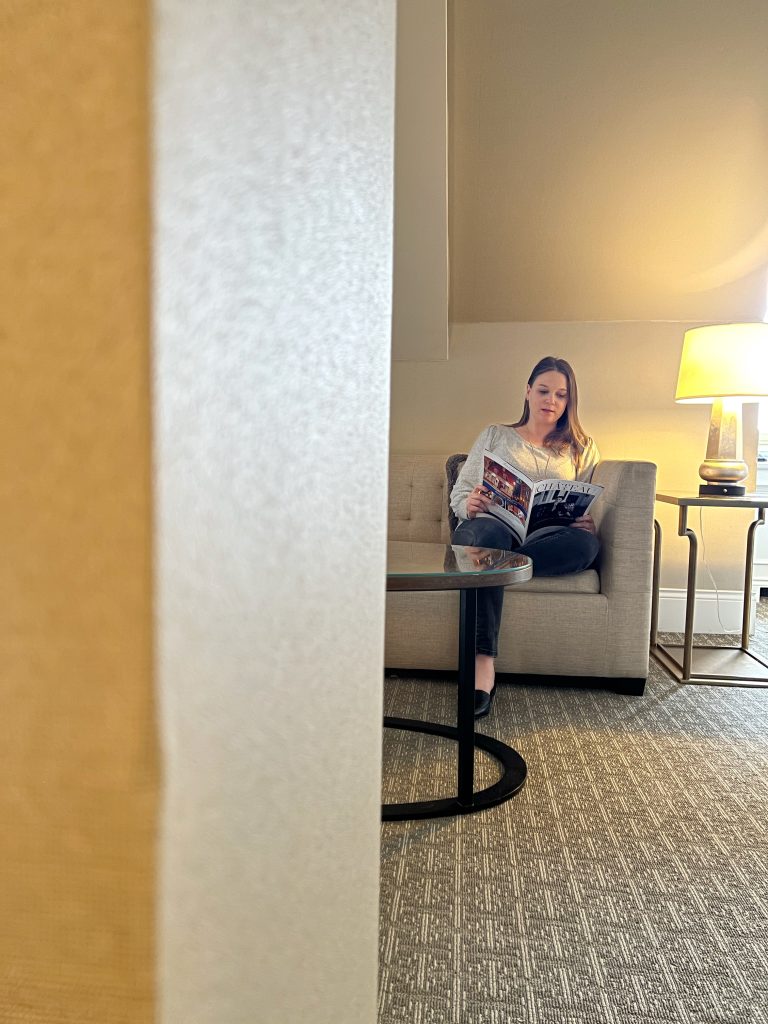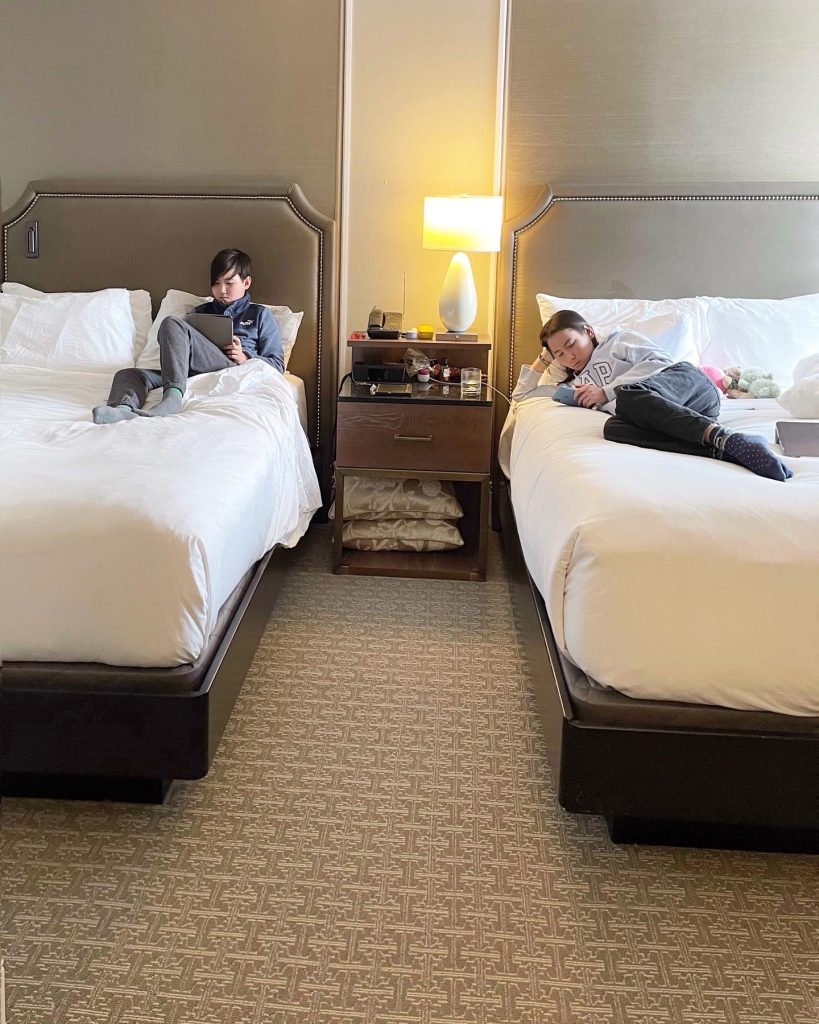 We had breakfast included in our rate everyday. This was a huge help and really got every day of our vacation off to a good start. We really enjoyed the buffet at Place Dufferin. In my eperience, Fairmont hotels really know how to do a good buffet. This location did not dissapoint. The buffet had something that everyone loved. We really appreciated the omelette station and the fresh fruit.
The hotel has a lovely, bright, pool area. We enjoyed the pool everyday of our stay. The pool area has cushioned lounge chairs which were a perfect place to sit back and relax. My kids enjoyed the pool and I really loved relaxing in the hot tub. The gym at the hotel is well equipped and both the ladies and mens change rooms have saunas.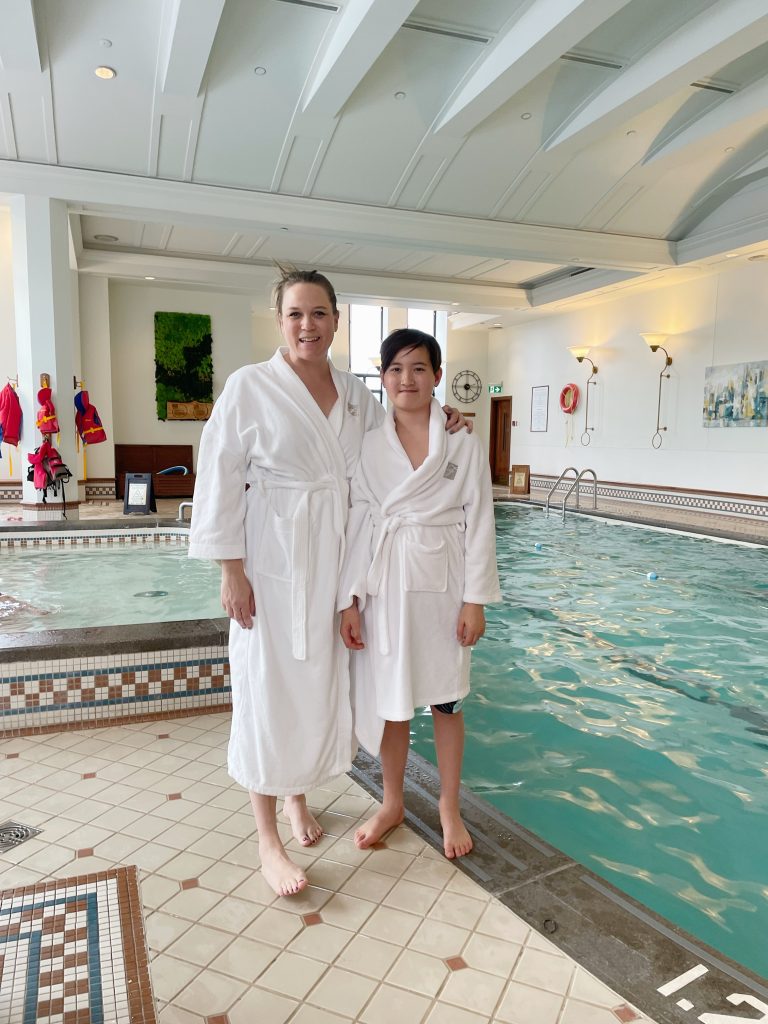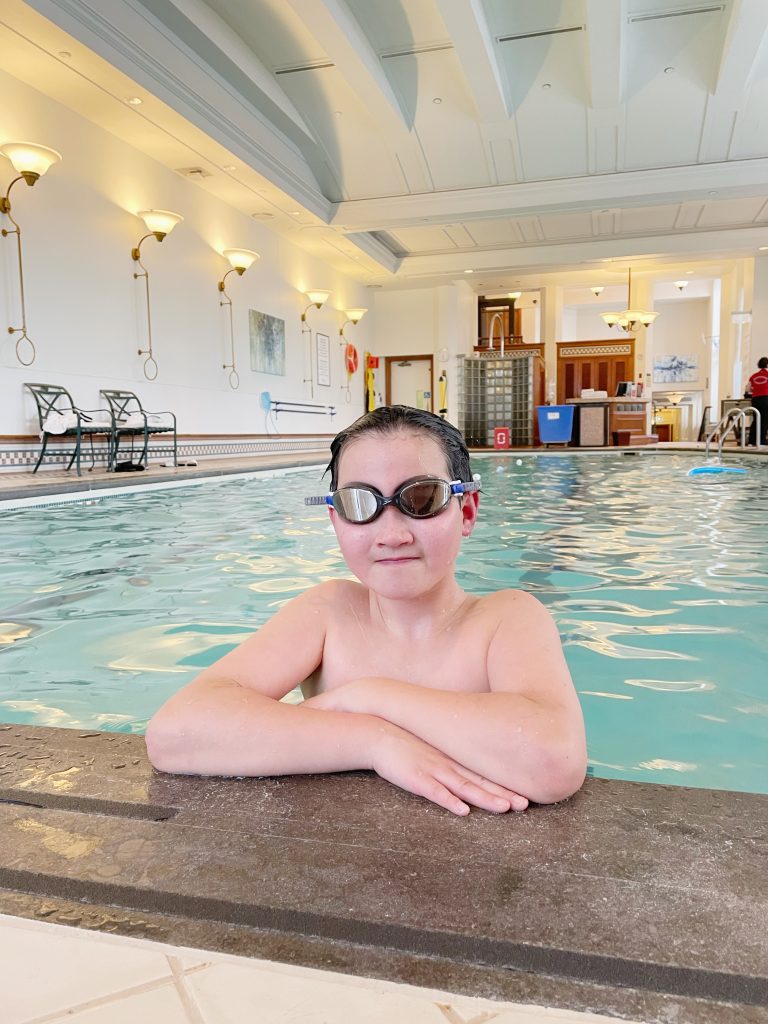 A highlight of our stay for my husband and I was the 1608 Bar. We enjoyed retreating to the 1608 Bar on two evenings to enjoy a cocktail and some appies. The atmosphere at this bar is perfect. We loved sitting in some of their comfortable chairs and look at the snow falling.
During our stay my family enjoyed many of le Chateau Frontenac's experience activities. These are included in your stay and available to every guest.
My son and I did the Scavenger Hunt which was a great way to learn more about the castle. He was thrilled when he received a prize at the end. We also had access to crazy carpets which we borrowed to go sledding near by.
Location, location, location
Perhaps the most important thing to note about the Fairmont Le Chateau Frontenac is it's location. It's location is ideal for those wanting to explore Quebec City.
With le Chateau Frontenac as our home base, we walked to everything we wanted to do.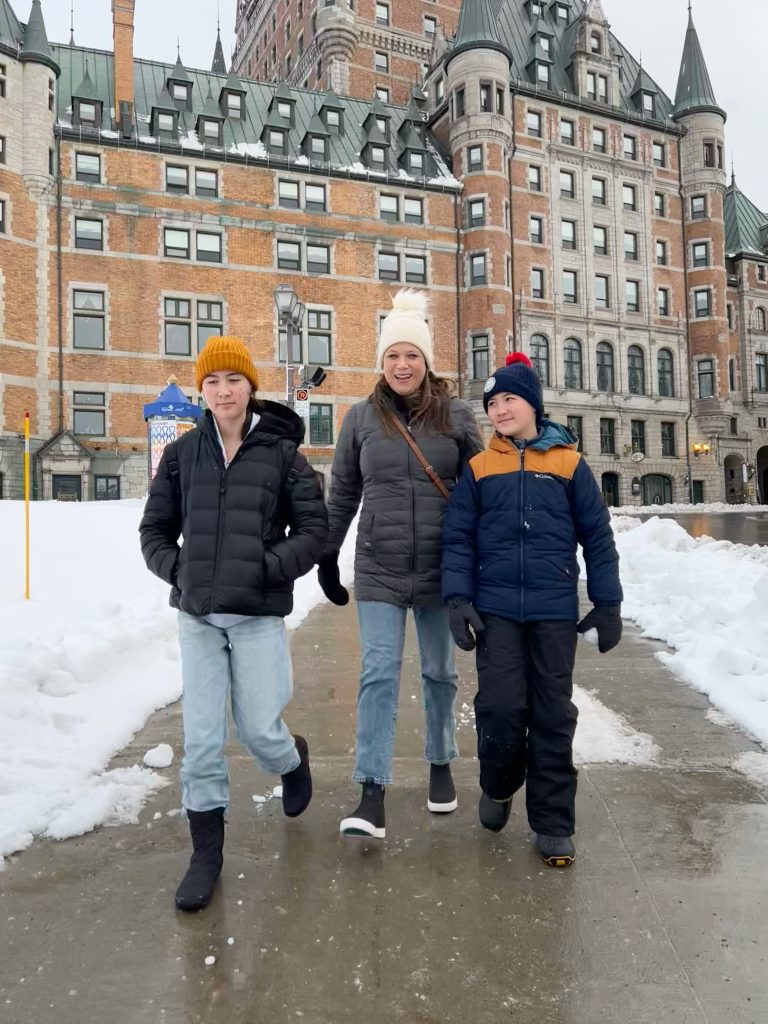 We shopped and ate at Quartier Petit Champlain numerous times. We shopped at the iconic Simons and went sledding at the Plains of Abraham.
I cannot think of a better place to stay when visiting Quebec City.
Overall
If you are going to explore Quebec City, in my opinion, the Fairmont Le Chateau Frontenac is the best choice of hotel.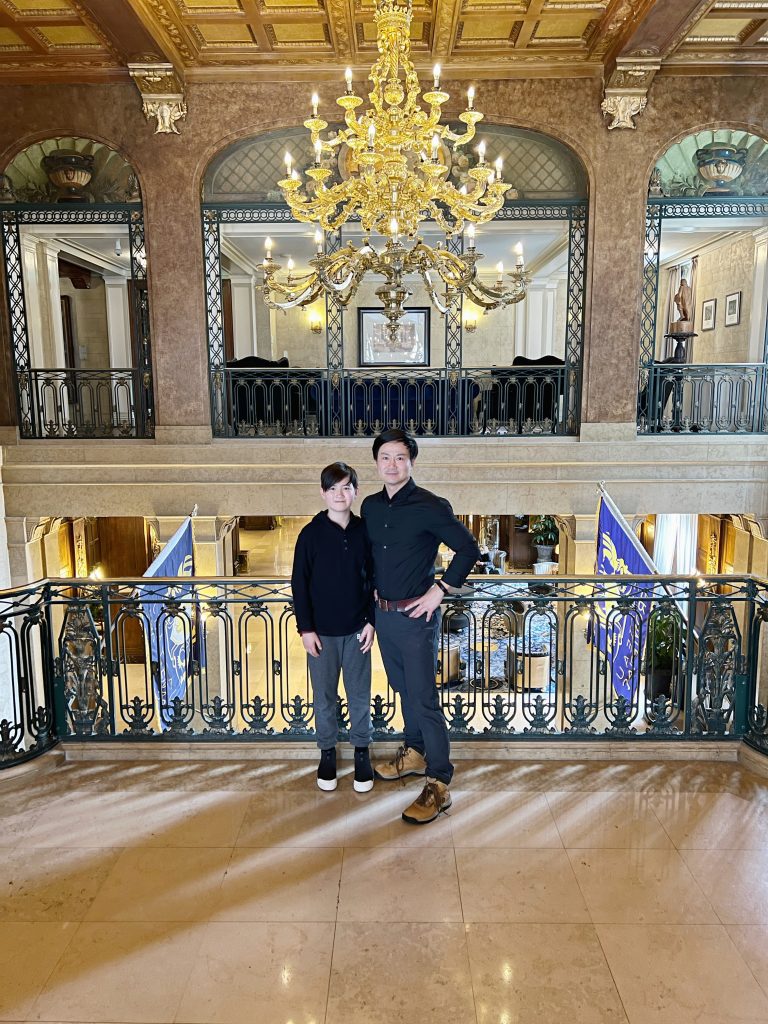 We were pleased with all the service we received at the hotel. We loved the location and amenities.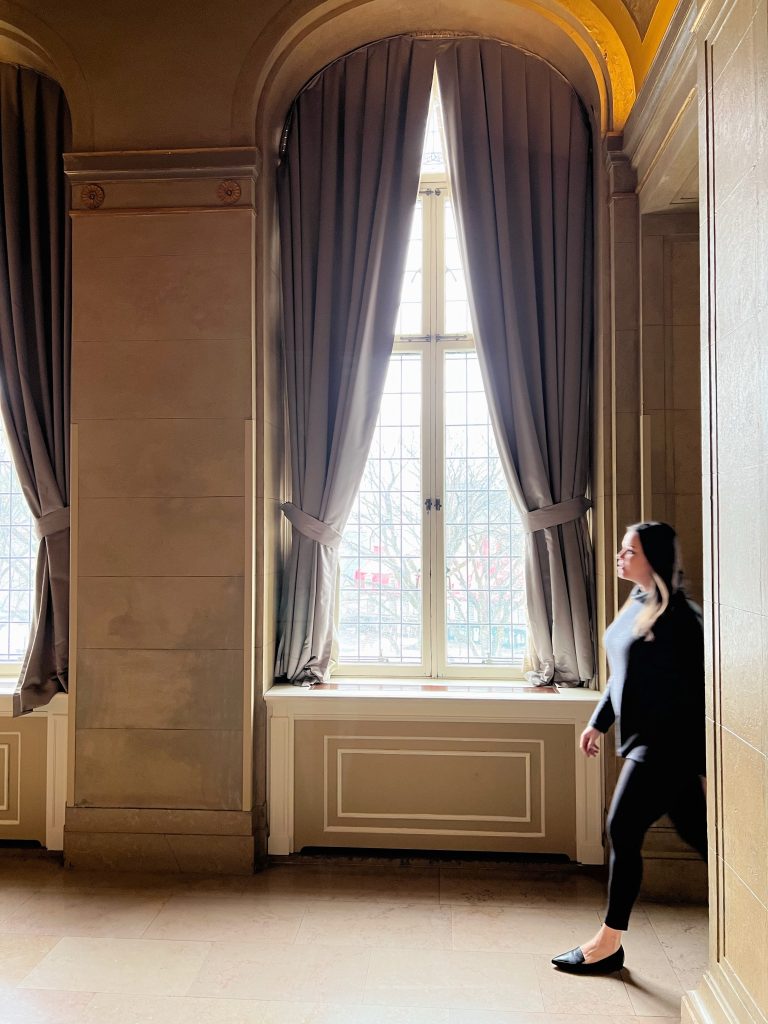 My children enjoyed touring the hotel and taking photos. We all loved our daily breakfast and spending time at the pool.
I would absolutely return to the Fairmont Le Chateau Frontenac.
Tell me, would you like to stay at the Fairmont Le Chateau Frontenac?