Get ready for another amazing Disney live-action movie starting their most iconic villain, Maleficent.
Disclosure: This is a sponsored post that contains affiliate links for your shopping convenience. 
On January 14, 2020, you'll be able to add Maleficent: Mistress of Evil to your Blu-Ray and DVD collection.
.
About the film
"Maleficent: Mistress of Evil" carries on the story of Disney's most
iconic villain. The years have been kind to Maleficent and Aurora. Their relationship, born of
heartbreak, revenge and ultimately love, has flourished. Yet hatred between man and the fairies still exists. Aurora's impending marriage to Prince Philip is cause for celebration as the wedding serves to unite the Kingdom of Ulstead and the neighboring Moors. But, when an unexpected encounter introduces a powerful new alliance, Maleficent and Aurora are pulled apart to opposing sides in a Great War, testing their loyalties and causing them to question whether they can truly be a family.
Bonus Features
Extended Scenes
The Queen Comforts Aurora – Queen Ingrith takes advantage of Aurora's fragile state to gain her confidence and accelerate the wedding plans
Philip and Aurora Dance – Aurora struggles to gain Queen Ingrith's approval when she realized how she is viewed among aristocracy.
Featurettes
Origins of the Fey – Angelina Jolie discusses Maleficent's lore, her newly discovered origins, and the diversity of the cast who portray the Fey.
Aurora's Wedding – Elle Fanning gushes over Aurora's fairytale wedding; plus, hear from some special guests as they give their best to the bride and groom.
If You Had Wings – Get a glimpse of the elaborate visual effects that allow the Fey to take to the skies.
"Maleficent: Mistress of Evil" VFX Reel – Discover how a perfect blend of practical and visual effects were used to create the stunning landscapes in "Maleficent: Mistress of Evil."
Outtakes – Uncooperative cats, a serious case of the giggles and even the "floss dance" found their way into Ulstead.
"You Can't Stop The Girl" – Music video performed by Bebe Rexha
.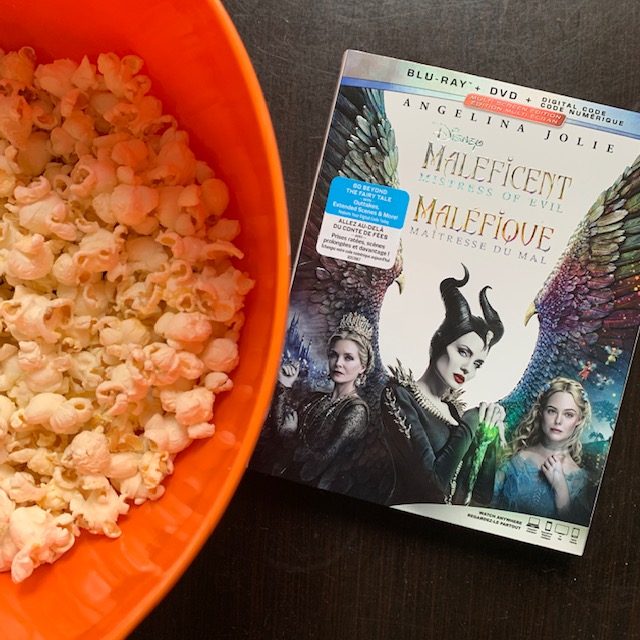 Giveaway!
One lucky fan will win a copy of Maleficient: Mistress of Evil to add to their movie library. To enter, name me another Disney villain that you like, then fill out the Rafflecopter form below.
Giveaway runs from Jan 13, 2020 – Jan 20, 2020. Mandatory question must be answered to be eligible to win. Open to Candian residents only. Void where prohibited. See my Terms & Conditions for full giveaway info.