Rev up your family movie night with Disney Pixar's latest release – Cars 3.
My son has been a fan of Lightning McQueen since he was a baby. He's seen and enjoyed all the movies. Cars 3 is his favourite of the series.
I'm so excited that Cars 3 is now available on Blu-Ray/DVD – just on time for the holiday season!
Synopsis
Cars 3 is the fast-paced new tale of Lightning McQueen, his classic CARS friends and a new spirited trainer Cruz Ramirez! Lighting finds himself pushed out of racing by a new generation of faster and younger cars and goes on a journey to discover where he belongs in this new type of high-octane competition.
Where to Buy
Cars 3 is available on Blu-Ray/DVD November 7th. Be sure to pick up your copy to add to your collection today!
It's currently on Amazon.ca for only $24.96 CAD. Amazon is currently shipping all orders over $35 CAD for FREE. Use my affiliate link to buy the movie now.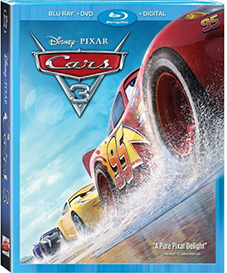 I'd love to know, which character from Cars 3 does your child like the most?
Disclosure: A copy of Cars 3 was provided to facilitate this post. All thoughts and opinions are always my own.